Our team, namely Daniel and Chris, have decided to go to London. "Why?" you may ask, and we'll tell you it was not without a reason. From October 26th to 28th, MCM London Comic Con was held there. And what better place to get geekified? We are still amazed with the event (although two months have passed since we were there), but we'll try to get our impressions down in a fairly comprehensible way. Ready?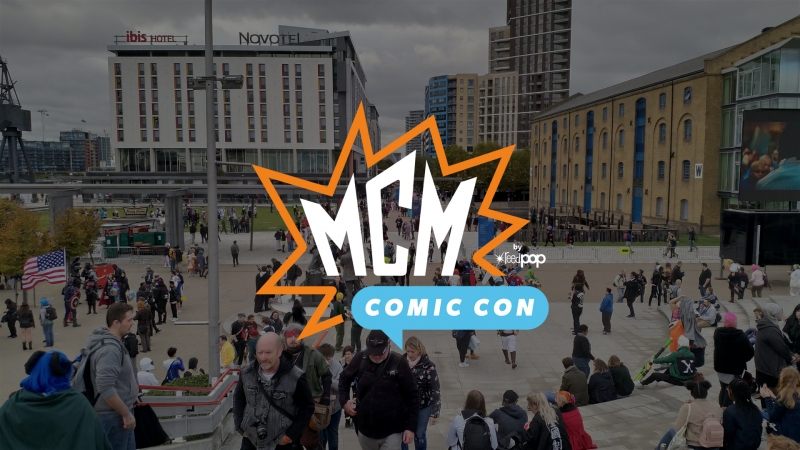 THE PLACE
Chris: The Con took place at ExCeL (Exhibition Center London), which is an enormous, spacious venue. It was certainly fit for an event of that calibre. Two hangar-like halls were used for the main attractions and there was also a corridor in between with various food places. The panels were held in six stages: the Main Stage, the Live Stage, the Comic Stage, the Creator Stage, the Centre Stage and the Popasia Stage. There was also a Cinema Truck for some special screenings (more on that later). The rest of the halls were divided into thematic sections: comic village (comic books, manga and anime), merchandise, films & TV, signing & photo shoots, video games and kids zone.

Although the huge space was not always used efficiently (some stages could definitely fit more chairs and could use a bit more lighting), overall it was planned well. Moving between different areas wasn't difficult at all and in each one there were many places of interest. And even if one of us got lost, it was only because something caught our attention. I could probably complain that there were simply too many good things there, but then again: is that really a complaint? Not at all. For a first-timer like me — it was truly fantastic.
Daniel: I agree with insights that Chris have shared. The place was indeed huge and most of the things were planned pretty well. If I were to complain, however, I would say that some stages could use more chairs and better lighting. Most of the rooms were really dark and felt quite gloomy. with only few, blinding lights pointed to the guests panel. It felt really strange, and even some comic book guests have pointed it out! By comparison, I've been to a smaller video games event – GameOn  – which had even fewer stages. And all of them had great lighting. It felt cozy rather than a little bit bleak.
Also, the isolation of sound in smaller stages was quite poor but I guess you can't do much, since the stages were separated only by huge curtains. On the other hand, it was more of a problem with the exhibition centre itself, which doesn't have proper rooms that could be turned into stages. And probably the time to organise the eventwas limited, since ExCeL accommodates a ton of them.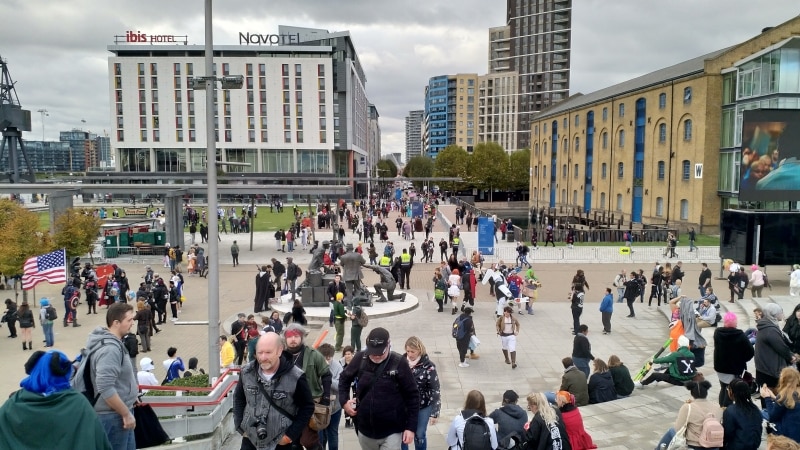 The size of this Comic Con was enormous. During the day, I never managed to see everything I wanted. And sometimes we had to split up with Chris, because there was just too much to see, and we wanted to see different stuff. I wanted to see all the comic, TV, movies, and merch panels. But even with having 2 full days to explore MCM Comic Con premises, it was close to impossible.
One thing worth mentioning is quite a big difference in the amount of people who came on different days. On Friday, there was a lot less of them than it was on Saturday, which was far more crowded and a little harder to navigate. But even so, it was quite well arranged with enough space to go through. Also, Saturday had a lot more of cosplayers walking around, which added more fun to the atmosphere. For my taste, it was a little overcrowded at times, but this is just a personal sidenote. All in all: it was a great experience.
This was not my first MCM Comic Con as was the case with Chris — I've also been to the 2014 May edition. Although I don't remember it that well, it was definitely smaller. I would say that this year's MCM Comic Con has doubled in size since then! I feel like, during those years, they have managed to organize the masses even better. There was more room to go through between the panels. Also, even though the waiting lines of the 2018 October Comic Con were very long – they moved very fast, giving close to no frustration. And Friday was a complete breeze in a comparison of Saturday.
Also, I did some digging and found 2014 May Map of MCM London Comic Con. So you can compare this with 2018 October event. In just 4 years the event almost doubled in size!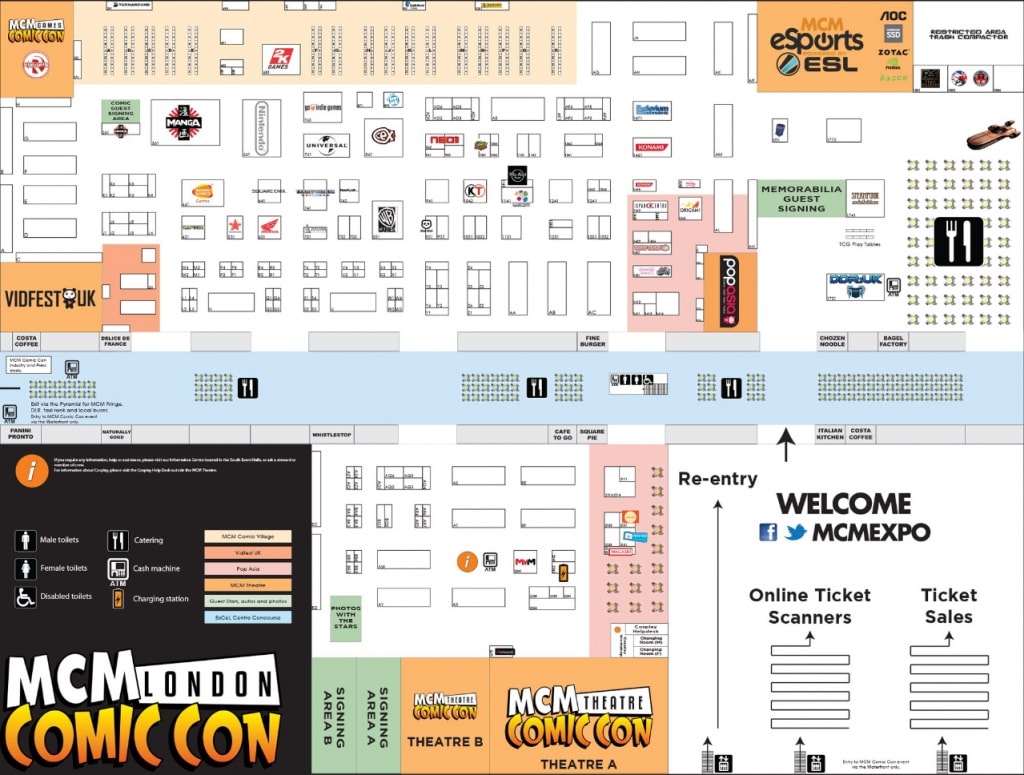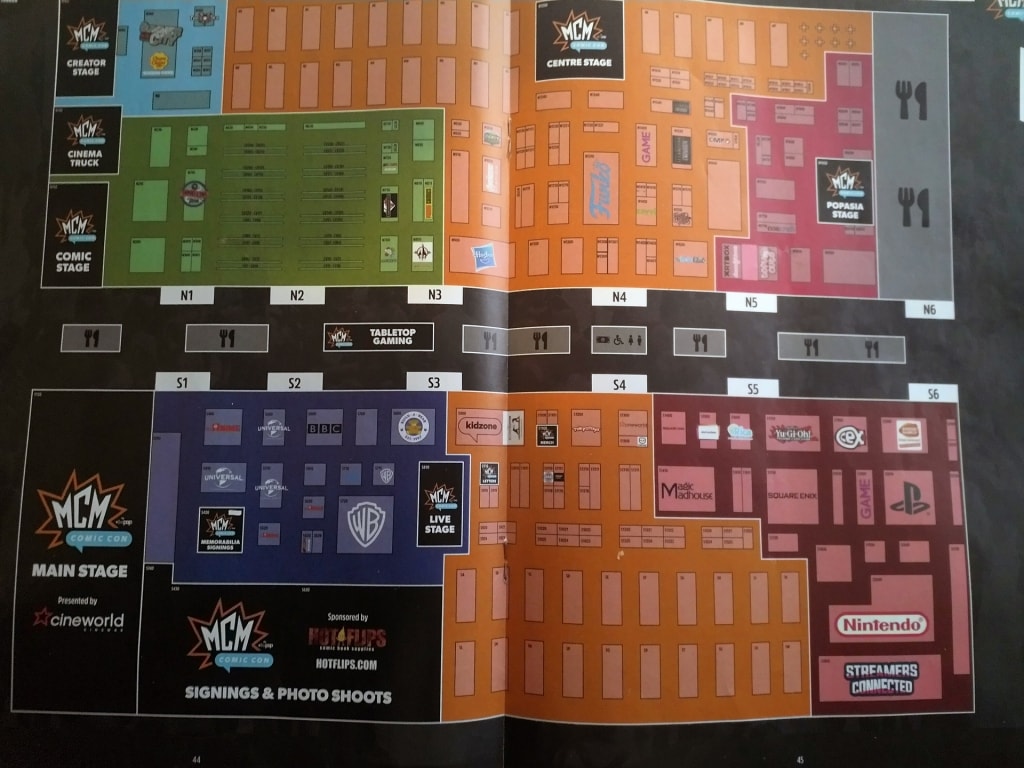 THE PANELS
SUMMARIES
Horror Through Generations
Five horror actors took part in this panel: Kane Hodder (known from his turn as Jason Voorhees in five "Friday the 13th" films), Katharine Isabelle ("Ginger Snaps", "Hanniball"), Linnea Quigley (iconic scream queen best known for her role in "The Return of the Living Dead"), Ray Santiago ("Ash vs. Evil Dead") and Tony Todd ("Candyman").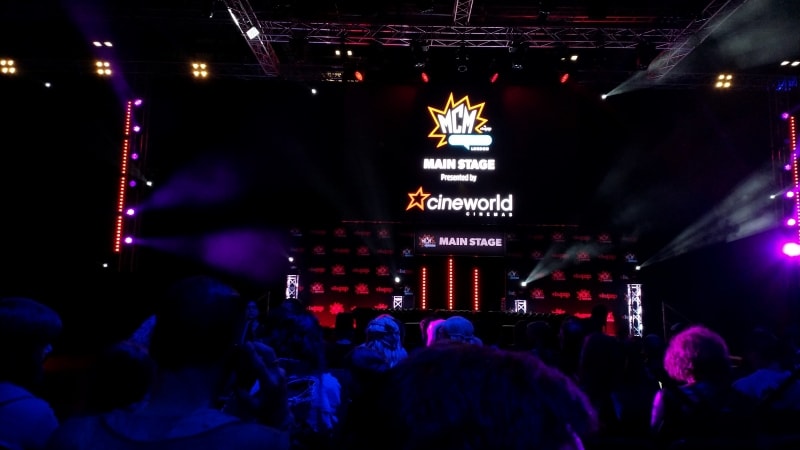 As the title of the panel suggests, they talked about how the horror genre has developed through the years. According to Todd, the main reason for the change is the rise of Netflix and similar services, which are open for new concepts and opportunities. "Indie films are more creative" added Quigley, underlining the importance of independent creators, who make the changes in the genre possible.
Santiago then talked about how the development of filming technologies affect both horrors and the actors' work. "Technology and 'X' marks make you really act and use imagination" he said. On the other hand, Hodder noticed how he hadn't been dependent on CGI while working on his Jason films and wore prosthetics all day. Upon hearing this, Santiago laughed "We have to suffer to make the movies good".
Coming back to change and creating something unique, Isabelle said that the biggest and the most groundbreaking films hadn't usually been made with the thought that they would achieve cult status. In fact, she was shocked with the success of "Ginger Snaps" as was Todd with "Candyman's".
The actors also talked about improvising. Isabelle admitted that sometimes it is good to improvise and when the director hates it, they can always cut around it. Hodder added that as long as it doesn't compromise other people's dialogues, he loves to improvise and add a little tidbits of his own — something he also did for "Friday The 13th" game.
One of the most important thoughts shared by the panelists was how horror is the mirror of times. The actors all agreed that they try to elevate the genre — often considered inferior to Hollywood greats like drama. They also said they were excited to see new voices come to the horror world and shared their favourite horror films released recently: "Get Out", "Hereditary" and… the ending of "Toy Story 3".
Go Go Power Rangers!
The stars of this rather small panel were Catherine Sutherland and Steve Cardenas, known from their roles as Kat Hillard the Pink Ranger and Rocky DeSantos the Red Ranger on "Power Rangers". The guests were very enthusiastic and tirelessly answered many fan questions. They revealed they had been very happy to take part in this year's reunion episode, and they were very nostalgic about the "Zeo arc", both claiming that it was their favourite story arc (minus the villain). Cardenas also told the fans what the weirdest place someone had asked him to sign was — someone's head. And, of course, they were asked to do some "It's Morphing Time" which was fun to watch.
DC Presents: Gotham's Rogue Gallery
One of the most interesting comic book panels at MCM London Comic Con 2018 was about Batman villains. Tim Sale, Frank Tieri, Brian Azzarello, Jimmy Palmiotti and Amanda Conner all took part in it and shared their insights on Gotham City's Rogue Gallery.
Chris Conroy, who moderated the panel, started the conversation with Tim Sale, the famous penciller behind "The Long Halloween". Sale revealed that he had based his take on his Poison Ivy on Black Orchid and the iconic, grinning Joker on… Dr Seuss's The Grinch. He had been happy to have artistic freedom while working on his iterations of the villains. "I could draw the Joker without end, but the most interesting villain for me is Two-Face" he said when asked for the favourite Batman villain.
Next was Frank Tieri, who is writing the "Old Lady Harley" comic book. While he certainly loves the character, he said his favourite villains were the mafia characters like Sal Maroni and Carmine Falcone.
Brian Azzarello, who killed the Joker in his elseworld story "Batman: Damned" revealed he had done it simply to "introduce a new villain". The writer's favourite baddie is Killer Croc: "He's one of the few who could match Batman on physical level". Even more interestingly, he suggested a fascinating interpretation of Batman's enemies role: "Every one of them is a piece of Batman's psyche". It does make a lot of sense.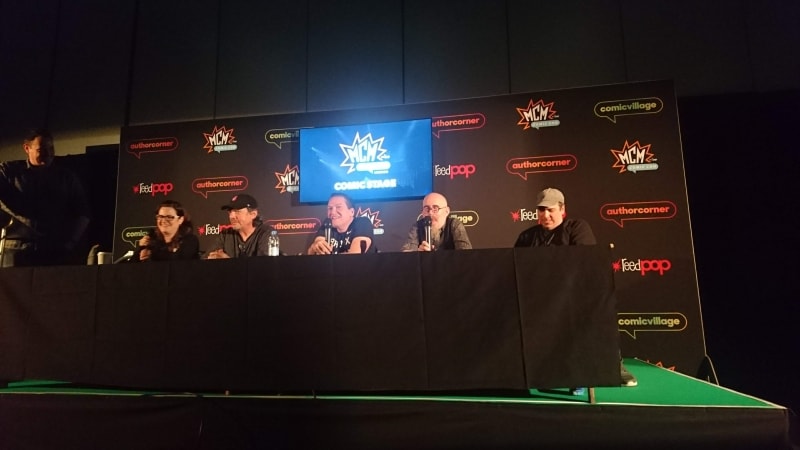 Jimmy and Amanda, who, by the way, were late for the panel, offered their thoughts on Harley Quinn. They wrote her more as an anti-hero than a villain. In her crazy way, she sees herself as the one who does the right thing and Batman as a villain who gets in the way.
The panellists were also asked who would be the villain that gets Batman killed. The funniest answer was given by Conner: "It would be someone who throws banana skins on Gotham City's gargoyles. Batman would land on one without noticing it and fall down to his death". On the more serious note, Azzarello said: "It would be the one who represents Batman's weakness", which was an intriguing remark. Meanwhile, Tim Sale's choice would be Two-Face and Frank Tieri's — Alfred.
DC Artist's Academy
Another comic book panel was the one where I (Chris) remembered: "I can use my phone as a recording device." Brilliant, right? So here's the (little shaky) video.
Wonder Woman of Pop Culture
Last but not least, was the Wonder Woman of Pop Culture panel featuring authors: Vic James ("A Gilded Cage"), Kristina Perez ("Sweet Black Waves"), Emily McGovern ("Bloodlust & Bonnets") and Lucy Hounsom ("The World Maker Trilogy"). They offered interesting thoughts on challenging gender in fiction and agreed that the women shouldn't be written as men wearing dresses because it makes them one-dimensional. The authors should instead embrace the femininity of female characters and, at the same time, not compromise their independence. This way the female characters can be made richer and have more to offer.
The panellists also talked about their beginnings. While most of them mentioned some bad first novel sketches in their drawers, McGovern told the audience about drawing "Stickman's Adventures" with her friends. The simple exercise would involve thinking of a deathtrap for the titular Stickman and drawing it on one panel, then pass the piece of paper to the next person who has to think of a way to evade the trap. The pattern would then repeat.
THE ATTRACTIONS
SUMMARIES
Mortal Engines screening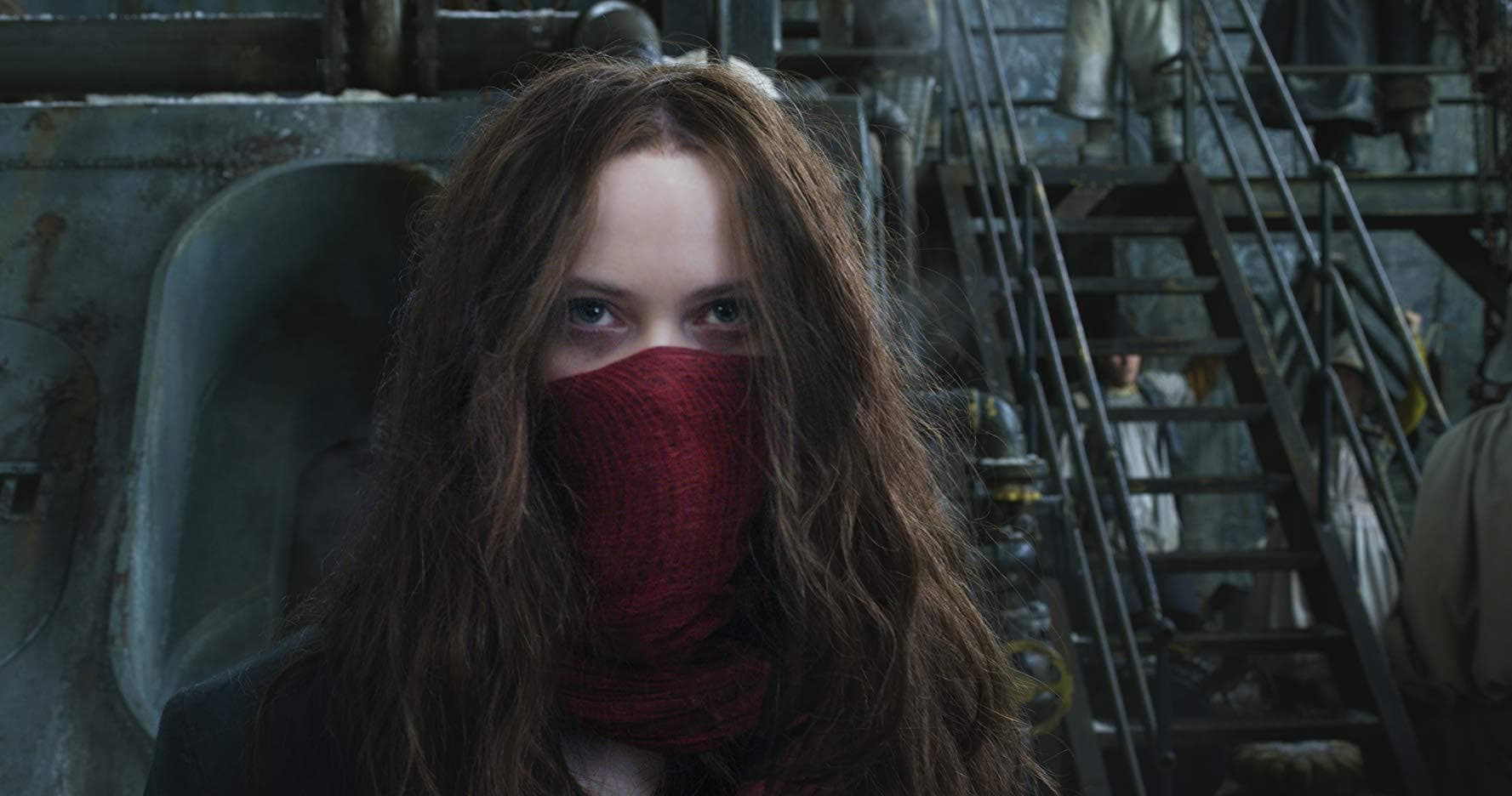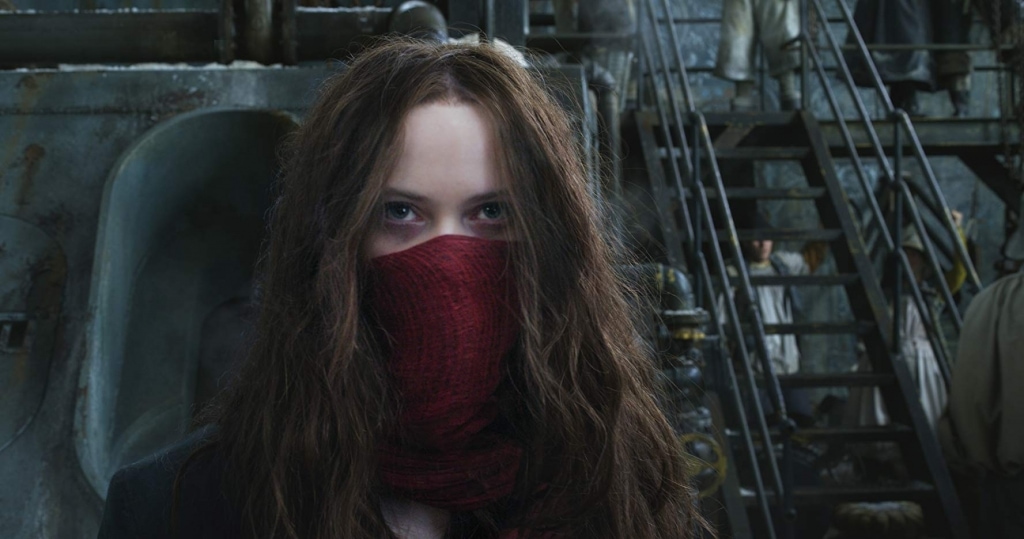 One of the coolest attraction of the con was the early screening of 25 minutes of Universal's "Mortal Engines". The film based on the book by Philip Reeve is written and produced by Peter Jackson, Fran Walsh and Philippa Boyens (the trio responsible for "The Lord of the Rings"). It is set in a post-apocalyptic future. After a catastrophic event that wiped-out most of the world, people installed huge engines in their cities and enabled them to dismantle and devour other cities for resources and technology. The film begins some time after, and we follow a Londoner Tom who is on track of a massive plot which could once again change the world.
Although the dialogues are a little too exposition-heavy in some scenes, the film is visually breathtaking. Directed by a long-time Jacksons's collaborator, Christian Rivers, it is a pure feast of deliciously filmed long shots and clever production design ideas. It is a pleasure to watch the cities unwind and chase one another and although it was Rivers who directed the film, you could clearly see Jackson's hand here and there too.
I was really intrigued by this sneak peak of "Mortal Engines" and I will definitely go watch the film in the cinemas when it gets released.
EDIT: Since I have written these impressions, I have managed to see the whole film and… well, let's just say that these 25 minutes I am talking about above were the best part of it. But for the SFX — it's definitely worth watching.
Kingdom Hearts III demo
As a fan of the first two games in the series (and their spin-offs/quasi-sequels/prequels/whatever), I was happy to be able to check out the demo of the upcoming "Kingdom Hearts III". And although I had to stand in a long queue and play the game on Xbox (who, the heck, plays on Xbox?), it was definitely worth it. Square Enix made two levels available for the con attendees: Olympus where you fight with one of the Titans and Toy Box where you meet the "Toy Story" characters.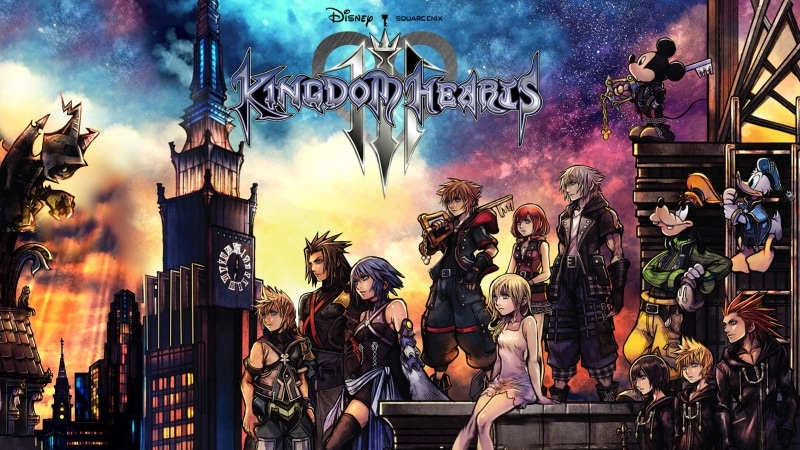 Graphically, the game is amazing. The Toy Box level looks almost like out of the "Toy Story" films: the environments are very detailed and the characters are smoothly animated. But it is the gameplay that serves as the true asset "Kingdom Hearts III". Fluent, intuitive and dynamic, the game mechanics certainly improves upon the mechanics of its agey predecessors adding many modern features while also staying true to the core "Kingdom Hearts" solutions.
The demo was really promising and I look forward to playing the whole game when it comes out.
EuroCosplay Championships Final
The second day of MCM Comic Con was wrapped with EuroCosplay Championships Final. We had a chance to see the best of the best. Each finalist presented around 2 minutes show, where they presented their cosplay and made a short acts presenting their characters. I was especially proud to see Lithuania cosplayer, FoxTail, who was performing as Aloy from Horizon Zero Dawn. She ended up reaching 4th place in the final. So close. The winners of EuroCosplay 2018 were: 
3rd place: Paulches from Russia as Scott Ryder from Mass Effect Andromeda

2nd place : Leelookris from France as Lagertha from Vikings

Champion: Don Esteban form Austria as Geralt of Rivia from The Witcher 3
We have some pictures from EuroCosplay Championships Final. Thank you Manga Girl Photography for letting us share this.
SUMMING THINGS UP
So, overall was it worth to attend the event? Definitely. It was well-organised, had amazing guests and, most of all, let us have an amazing geek-out. We will definitely come back this year, and we hope to meet some of you there! And if you want more persuasion, check out the photo gallery below.
GALLERY
DAY 1 (FRIDAY)
DAY 2 (SATURDAY)
Special thanks for Manga Girl Photography for some of the pictures. Go and check her out!