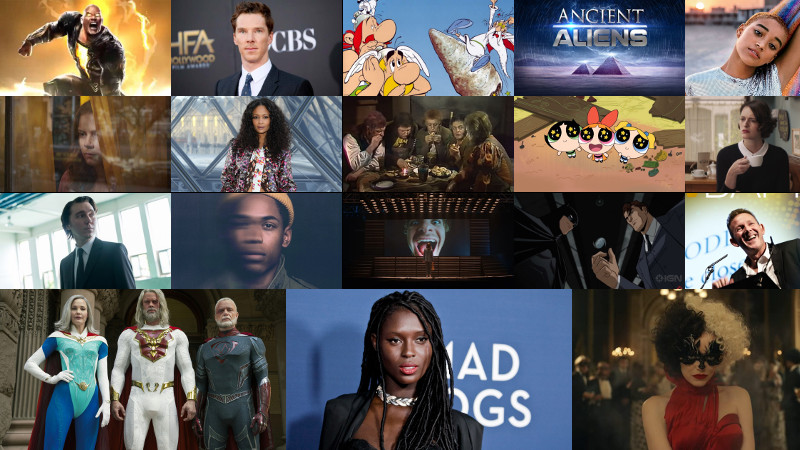 Netflix released the first trailer for its upcoming adaptation of Walter Dean Myers' "Monster". Check it out below.
The film looks really beautiful and lyrical. Hopefully, Netflix has got another hit in its hands.
Ancient Aliens will become a film. Yep! The bonkers "documentary" series will be adapted into a feature by Cobra Kai's Josh healed, Deadline reports. While the details are currently being kept under wraps, what we know is that " the story will be a two-handed, globe-spanning adventure featuring ancient sites and artefacts, confronting the theories and questions raised by the popular docuseries". I am for this idea all the way and hope for a crazy Dan Brownesque adventure film.
The first trailer for the animated adaptation of "The Long Halloween" has been released.
I like what I'm seeing, even though the unique visual style of Tim Sale's has been replaced with a more basic approach, probably to preserve the united stylisation of other recent animated films set in the same universe. Either way, I can't wait.
The Hollywood Reporter wrote a huge exposé about what exactly transpired on the set of "Justice League" reshoots. Ray Fisher told in detail about his experiences with Joss Whedon, the trials of gaslighting by Jon Berg and racist remarks by Geoff Johns. The article also tells about Whedon being abusive towards Gal Gadot (going as far as threatening her career) and Geoff Jonhs' other racist behaviours. It's definitely worth a read.
In a great article by Vogue, Thandiwe Newton, the actress known for her roles on "Mission: Impossible 2", "Westworld" or "Solo: A Star Wars Story", reclaims her original name. She will be credited as Thandiwe in all upcoming productions featuring her.
A Soviet TV adaptation of "The Lord of the Rings", which was thought to have been lost to time, has been recently rediscovered and posted on YouTube. You can watch it here (Part One, Part Two). It's definitely an experience!
Disney released the second trailer for "Cruella".
Can't wait for this one!
Another new trailer: Netflix's "Jupiter's Legacy" based on the comic books by Mark Millar.
Jennifer Jason Leigh has joined the second season of Amazon's "Hunters". According to Deadline, she will have a lead role in the series previously headlined by Al Pacino. It is currently unknown if the latter will come back although it would be a pity if he didn't.
Amandla Stenberg and Maria Bakalova will star in a slasher for A24 called "Bodies, Bodies". Not much more is known about the project but with such names and this production company you can't go wrong.
Filming has started on Black Adam. Here's Dwayne "The Rock" Johnson's Instagram post detailing the start of the production.
Wyświetl ten post na Instagramie.

Additionally, Tony nominee James Cusati-Moyer has been cast in the film in an undisclosed role.
Next to the upcoming "The Flash" by Andy Muschietti, I'm really excited about "Black Adam" and hope it will bring the DC franchise into its deserved spotlight.
What would "Firewatch" look like if it was a film with a crazy amount of over-the-top action added to it and Angelina Jolie as the protagonist? Well, probably like HBO Max's "Those Who Wish Me Dead". See for yourselves!
Gia Coppola is making a film satirising influencers, "Mainstream", starring Andrew Garfield, Maya Hawke and Nat Wolff. The trailer looks a bit exaggerated and over-stylised but intriguing nonetheless.
"The Woman in the Window" with Amy Adams is finally going to be released. Hopefully, it was worth the wait!
Paul Dano will join Michelle Williams in Steven Spielberg's vanity project — a semiautobiographical film loosely based on the director's childhood. Dano is set to play a version of Spielberg's father, Variety reports. Good luck to the actor.
The cast for Guillaume Canet's "Asterix & Obelix: The Middle Kingdom" film has been assembled. It includes Guillaume Canet as Asterix, Gilles Lellouche as Obelix, Vincent Cassel as Cesar, Marion Cotillard as Cleopatra, Jonathan Cohen as Finalthesis with Ramzy Bedia, Julie Chen, Linh-Dan Pham, Pierre Richard, and debuting Zlatan Ibrahimovic as Oneofus. Some big changes when it comes to the actors (Depardieu and Belucci who previously portrayed Obelix and Cleopatra won't be returning in this entry and Asterix will be recast again with Canet taking on the role) but I'm really interested in how Canet will do as the director because he's a very talented and idiosyncratic artist. Something really good can come out of this.
Due to scheduling conflicts, Jodie Turner-Smith had to exit Netflix's "The Witcher" prequel, "Blood Origin". That's a pity because it was an interesting casting choice and I hope the creators will find a good replacement.
Two new actors have joined CW's "Powerpuff Girls" live-action sequel. Robyn Lively will play Sara Bellum, while Tom Kenny will reprise his role as the narrator.
"Fleabag's" Phoebe Waller-Bridge has been cast as the female lead in the new "Indiana Jones" film, directed by James Mangold. The details of her role are currently under wraps but it will surely be great to see the incredibly talented actress opposite Harrison Ford.
John Logan, the creator of "Penny Dreadful" is making his directorial debut. He will make Blumhouse's new horror movie "Whistler Camp" — a queer empowerment story set at a gay conversion camp.
Netflix got rights to an upcoming limited series based on "The Thirty-Nine Steps" by John Buchan and its film adaptation by Hitchcock. The series will star Benedict Cumberbatch with Edward Berger directing and Mark L. Smith writing.