The Microsoft Briefing started off with a bang by unveiling a new and exciting Xbox One, and did wonderfully by ending it with the announcement of Project Scorpio. Many great games to be excited about, and I look forward to seeing what else E3 brings.
The Xbox One S and New Accessory Customizability
The new version of Xbox One has been unveiled! The Xbox One S, as they called it.
The new Xbox One S is going to carry up to a internal 2T Harddrive. This is going to be enough to hold enough games and content to not have to worry about which game you'll have to delete to make more room. I'm glad they have listened to customers and the community about offering a larger storage option. The power supply will also be internal, so I assume it means no more dealing with a power brick. The release date is August 31st, 2016 for the Xbox One S. You can check out the prices at the Microsoft Store; 500MB will be $299USD, there will be the intermediate model of 1T storage for $350USD, and the 2T model will be $399USD. Having three models will be great for those that have an external HDD, already, as well as allow people to fit it into their budget.
The Xbox One controller has also gotten a slight redesign with textured features to make holding the – already comfortable – Xbox One controller more pleasant to the hands. And speaking of a more pleasing controller to hold, what about an Xbox One controller that is more pleasing to the eyes? This is where I come in and introduce Xbox Design Lab. Ever wanted a different colored controller, or wanted to paint your own? Don't worry, because Xbox has made this convenient for you to be able to do so without the mess and strong fumes of paint. It's convenient, but I don't think it will stop people from customizing their own controllers, as they are limited as to what you can customize; as well as some people really do enjoy painting. I am always one to encourage people to express themselves artistically.
Prices will start at $79.99 USD, and if you want a laser engraved text, such as your gammertag, you will have to pay $9.99 USD for it. Shipping is free within the US.
Xbox Play Anywhere and Cross-Play
Games featuring the Xbox Play Anywhere logo on your digitally purchased games will be able to be played on both Xbox One consoles, and Windows 10. It's a very exciting feature for those with Windows 10 pcs because now it adds a new level of customizability – this seems to be the key thing throughout the E3 2016 Microsoft Briefing. It's a cool feature, and many of us have descent PCs/Laptops; if you don't see yourself using this feature, maybe you will see yourself trying it out when you're traveling or someone is hogging your console to watch netflix. Definitely don't pass up to use this new feature.
To add to this, your achievements and progress will all come with you when you switch between Xbox One and Windows 10 or Vice Versa. This feature is at no extra cost to Xbox players. Gears of War 4 is one of the first games that will allow this feature, and it will even support Cross-Play!
Cross-Play will allow Xbox One players to play with their friends on Windows 10. This feature may very well be the beginning of cross-platform play. Microsoft and Sony have both agreed to start working on allowing Xbox players to play with PlayStation players. I hope this brings gamers together. How many times have we had to suffer the frustration of not being able to play with our friends because our friends have it on different systems? With Cross-Play, we will be able to play the competitive mode of games that offer the feature, as well as join them in Coop modes.
Gears of War 4
They introduced more than just a few games during the Microsoft Briefing. Gears of War 4 is one of the biggest ones. They showcased gameplay with a little surprise at the end.
Other Gears of War announcements were made, as well. You will be able to purchase a Gears of War 4 themed Elite controller. I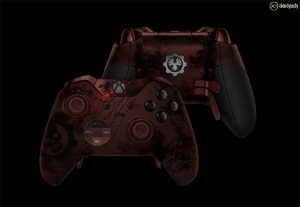 t looks amazing and it reminds me of how much I would have loved one of them when I first started playing Gears of War back when the first one came out. They will be $200USD, which is nearly the price of  a regular Xbox One controller extra than the regular Xbox One Elite controller. For some it may be too much, but for the hardcore Gears of War fan, this will be a treat – especially if it's being given as a gift and you see them burst in joy as they use their new controller to curb stomp the enemy in Gears of War 4.
And lastly, General Raam is joining Killing Instinct. The success of the fighting game has been self evident, and they have made it that much so by bringing such an iconic character to the roster at the Microsoft Briefing.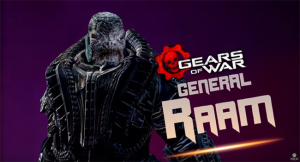 Forza Horizon 3
Forza Horison 3 is another big title that was showcased at the Microsoft briefing. Not only that, but we get to see the features Xbox Play Anywhere and Cross-Play will work, and how fluid and simple it is to jump into your friend's games and race with them in the beautiful landscapes of Australia.
ReCore
ReCore. If you know me, you will know that I have a soft spot for softhearted games with a great story such as Prince of Persia 2008, Wind Waker, Final Fantasy VI, and Child of Light. ReCore looks like a game I'll absolutely love. In the trailer they showed during the Microsoft Briefing, they showed off gameplay and a few of the companions that will be with our female main character. One of them is a robot dog. Excited? Yes, I am!
Final Fantasy XV
I love the Final Fantasy franchise. I love how different every game is, and how they explore and push the creative aesthetic of videogames to show that they are more than just mindless games, but an experience that will give us a lasting impression with memorable and loveable characters. This is what they showed at E3.
The Division
The first Expansion for The Division has been announced and will be available June 28th. It is titled "Underground." It will most likely not come with revolutionary hip hop or drills that will pierce the heavens. Still good news for those that still enjoy the game, and maybe some of you will be pulled away from Overwatch to go back to the Division to clean up. 
Battlefield 1
We're heading back to what we haven't seen in a while, World War II. Battlefield 1 launches October 21st, but if you have EA Access, you will be able to pay it starting on October 13th. I play a lot of World of Tanks, so this looks incredible. Battlefield has always pushed what shooters can do as not only a shooter, but a shooter that incorporates vehicles and air combat.
Minecraft Relms
Minecraft has turned to be a huge game that took the industry and shook it at its core. Now whether you play on iOS, Android, Windows 10, or Xbox One, you will be able to play with your friends across all of these different platforms. Dedicated servers will allow you to create dedicated servers so that your friends can join in whenever, even when you are gone. So now you will be able to show off your world, as well as have your friends build while you're gone. Minecraft will also support the new VR technology.
Texture packs and add-ons will be also available. You will now be able to change how enemies and creatures look in Minecraft. The add-ons will come this fall, and for all other consoles it will come out next year.
Inside
They didn't show much of this game, but the eerie ambiance from the game. This all makes sense because its from the creators of Limbo. I'm looking forward to seeing what surprises this game brings.  Inside comes out June 29th. While I mention Limbo, Limbo is currently available for free on  Xbox One. 
Independent Developers on Xbox One
It's nice to see more support from Independent Developers. These developers still take risks when it comes to creativity, which is one of the reasons why I love these games so much. One of the games under this list is Yooka-Laylee, which I wrote a small piece about. We Happy Few is another that I expect to leave a huge impact. So keep your eyes out for these games because your next great experience may just be one of these games.
Tekken 7
Tekken 7 is coming to Xbox One! And it looks fantastic. They showed Akuma fight , and as many of you know, Street Fighter V has been exclusive to PlayStation 4. Does this mean that Street Fighter V is coming to Xbox One, soon? I don't know about that, but I can dream. We can be sure, however, that Tekken 7 will be released early 2017. If you're a fighting game fan, get ready to pick this one up! While you're at it, Tekken Tag Tournament 2 is free for Xbox Live Gold members right now! So get to it and pick it up to get ready for Tekken 7!
Gwent
Are you a fan of card games? Get ready for The Witcher's Card Game. 
Dead Rising 4
Frank West is back, baby! Now, I don't like Zombies as a main antagonist. They are slow, they aren't self-aware, unlike Vampires (and I'm not talking about sparkling ones, just making an example on monsters). Still, Dead Rising has always been an amazingly fun game, for me and many others. Get ready for a merry and jolly Dead Rising unlike any before this Holiday season, and have some fun with zombies and the creative new ways we'll have to take them out!
Scalebound
I freakin' love dragons! I've been writing a novel, a set of novels, that take place with dragons. So hearing about a new game that takes place with dragons fighting alongside with you is exciting. After all, beast in fantasy is more feared and respected than dragons.
Sea of Thieves
Many of RARE's talent may have left, but RARE still continues to make games. RARE hadn't released much information about Sea of Thieves, but I love stories about pirates, and giving us the ability to sail a pirate ship with your friends gives me chills as I writes this just thinking about it. I'm glad to see RARE making games, again. I can't wait to pick this up and play it with my friends! Maybe I'll add some pirate metal every once in a while. If I could live any part of history, sailing the seas would definitely be one of them I'd experience.
State of Decay
As I mentioned earlier, I don't like zombies as a main antagonist. State of Decay does it well by bringing a setting of survival in a group-based effort. So we don't just have zombies, you'll have to struggle for survival. If you're a fan of the first game, or just love games with zombies, make sure you pick this up in 2017.
Halo Wars 2
I love playing RTS games, and the first Halo Wars was a simplified RTS, but by no means was it not fun. I had great times playing Halo Wars and I still jump  on it from time to time to play with my friends. I love Halo, and I hope they have Evolved the core gameplay that made the first one so exciting.
Extra Features
Finally, we'll be able to listen to music while playing games on Xbox One. They are also releasing Clubs on Xbox Live that will allow you to find new people with similar interests. Similarly, Looking for Group on Xbox Live will also make it so that you will be able to set up like an add to bring in people you want, or you look for people that are looking for the same qualities you are.
Arena on Xbox Live promises to be the easiest way to sign up for tournaments on Xbox Live – either solo or with a group of friends in your favorite games.
Conclusion
There are very well a lot of exciting games coming out, this year, and Xbox did great in showing more of what we want – games. Are you satisfied with the Microsoft Briefing? They also announced Project Scorpio aimed to release Holiday 2017. Is it too early for a new console? Personally, I would like it if they put more effort in the games, rather than graphics. Games with their own unique art-style rather than 4K. But for the few that have them, this will be a great upgrade. Along with the great games, all games and accessories from Xbox One, Xbox One S, and Project Scorpio will be compatible with each other! This is great news because no one has to feel like they are being left behind. This is exactly what consoles have needed if they are to compete with Steam and PC gaming. I hope that this doesn't just give us better visuals, but less limitations to what they can do as far as gameplay, art, and storytelling.
I hope you all enjoy this years E3, and expect more news from the team here at Geekified to continue writing. Hopefully it will be convenient way to check out the news from E3.