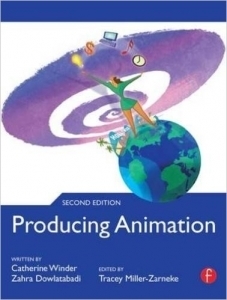 Ye olde Animation Examiner (i.e., Marlene Sharp, animation columnist from the now-defunct AXS news outlet Examiner.com) has run the cartoon gauntlet lately. Besides the search for a new publishing platform, she has experienced the usual day-to-day challenges of a pro kids' content collaborator, including head scratching, nail biting, stomach churning, and of course, putting one's foot in one's mouth.
However, from the fog, two bright spots emerged! First, you, dear geeks, are here! Welcome to the newly relocated LA Animation Examiner on Geekified.net! Daniel is the brave Geekified proprietor who has agreed to test my aesthetic with his esteemed audience. Thanks, Daniel and Geekified.net readership!
Second, the smart and lovely authors of "Producing Animation" (Second Edition) graciously granted a print interview to yours truly. Yes, 'gracious' applies, because the collective print wisdom of Catherine Winder ("The Angry Birds Movie"), Zahra Dowlatabadi ("The Land Before Time" films), and editor Tracey Miller-Zarneke ("Before Ever After") is a saving grace for the LA Animation Examiner during these trying times.
Without further delay, please enjoy candid Q & A on the 2011 Focal Press tome that teaches animators to keep calm and carry on.
LA Animation Examiner: How did the three of you decide to join forces on "Producing Animation?"
Zahra Dowlatabadi: The initial idea for "Producing Animation" came from Catherine. The two of us met on an incredibly challenging production and discovered soon afterward that every project felt like a costly and wasteful re-invention of the wheel. Catherine suggested that we combine our respective experiences in development, pre-production, production and post-production, and offer a how-to book. The first edition was hugely successful. It was reprinted numerous times and was translated into Chinese and Korean. As CG and digital 2D animation began to take over the industry, Focal Press was eager for an updated version. Tracey came to us as a highly recommended editor. She was pivotal in helping us take on this daunting challenge, since the second edition was not an update, but more of a rewrite. With her remarkable editing skills and resourcefulness, she was a great addition to the team.
LAAE: Is there a sequel in the works? In the meantime, where should aspiring and veteran producers go for more information?
Tracey Miller-Zarneke: At the moment, there is not an official new edition in the works, but as our experiences continue to change with the times, there is always the rewrite-in-the-head in progress. We wrote the second edition to provide more general, global guidance than one tied specifically to certain types of production pipelines. We regularly receive correspondence about how helpful the text is (now 5+ years after it was published), so we believe we were on the right track with this effort.
LAAE: If someone is involved in a production that deviates significantly from the methods in "Producing Animation," then is it time to panic? Why or why not?
Catherine Winder: Each project has its own requirements. When starting a new production, there are typically creative goals regarding fiscal and schedule parameters. With that in mind, the producers should tailor each project to meet these needs. This includes the casting of key talent, the style of animation, and the process used to bring it to life. "Producing Animation" is a framework and guide to be used as a springboard only. If a production must veer from the book's ideas in order to be realized, there is no cause for alarm. As long as the approach is strategic, the results should be successful. Most important: avoid diving in without an achievable plan!
LAAE: In terms of your careers, what's next for each of you?
ZD, TMZ, CW: Catherine recently produced the global event film "The Angry Birds Movie" and is ramping up several other exciting projects that soon will be announced.
Zahra is aboard two direct-to-video projects for Warner Brothers Animation: "Scooby-Doo! Shaggy's Showdown" and "The Jetsons Meet WWE."
Tracey continues to enjoy her work with various studios in writing art-and-making-of books for animated feature films. She has two projects in progress. She also serves on the board for the non-profit organization Women in Animation.
LAAE: P. S. to Zahra re: "The Jetsons Meet WWE" . . . As Mr. Cosmo G. Spacely says, "No hurry! Any time in the next 5 minutes is fine."
For an expanded view on "Producing Animation," please visit the corresponding website.