The 92th Academy Awards Ceremony is finally behind us. Here's the list of the winners and a short commentary.
Best supporting actor: Brad Pitt — Once Upon a Time… in Hollywood
Best animated feature: Toy Story 4
Best animated short: Hair Love
Best original screenplay: Bong Joon-ho, Han jin-won — Parasite
Best adapted screenplay: Taika Waititi — Jojo Rabbit
Best live-action short: The Neighbor's Window
Best production design: Barbara Ling and Nancy Haigh — Once Upon a Time… in Hollywood
Best costumes: Jacqueline Durran — Little Women
Best documentary feature: American Factory
Best documentary short: Learning to Skateboard in a Warzone (If You're a Girl)
Best actress in a supporting role: Laura Dern – Historia małżeńska
Best sound editing: Donald Sylvester — Ford v Ferrari
Best sound mixing: Mark Taylor and Stuart Wilson — 1917
Best cinematography: Roger Deakins — 1917
Best editing: Michael McCusker and Andrew Buckland — Ford v Ferrari
Best visual effects: Guillaume Rocheron, Greg Butler, Dominic Tuohy — 1917
Best make-up and hair-styling: Kazu Hiro, Anne Morgan, Vivian Baker — Bombshell
Best international film: Parasite.
Best original score: Hildur Guðnadóttir — Joker
Best original song: "(I'm Gonna) Love Me Again" – Rocketman
Best director: Bong Joon-ho — Parasite
Best leading actor: Joaquin Phoenix – Joker
Best leading actress: Renée Zellweger – Judy
Best film: Parasite
HOW WAS IT?
It's the second year in a row when the Oscar gala was hostless. But has it changed anything? Not really. In reality, going "hostless" meant dividing the host's role and giving out the bits and pieces to the presenters and other guests. And so, there was an opening musical number, then a monologue (or a dialogue, rather, by Chris Rock and Steve Martin), and then different fillers, which should have been eliminated by going hostless, to be honest, but well… they weren't. On top of it, was a surprise performance by Eminem with "Lose Yourself". He probably appeared to finally sing what he didn't seventeen years ago, and so that we could watch Kelly Marie Tran sing along with him from her seat. The reaction of the rest of the audience was probably more like this, I suppose:
All in all, this year's Oscars were hostless only by name as their formula hasn't changed by a bit and the burden of telling jokes (those good ones and those going rather into the dad-jokes territory) was born by the stars announcing one another and presenting the awards.
The quality of said jokes was, to put it mildly, diverse. What I liked best was the humour of Steve Martin and Chris Rock duo, the absolutely crazy performance by Maya Rudolph and Kristen Wiig, Will Ferrel and Julia Louis Dreyfus joking about cinematography and editing (probably as a reference to the last year's short-lived scandal, when the Academy briefly decided to cut those awards from the broadcast and present them during ad breaks) and the idea to have Rebel Wilson and James Corden dress as cats and present visual effects award. Yeah, THESE cats.
One of the other interesting moments was when Sigourney Weaver, Gal Gadot and Brie Larson entered the scene together. Find me a better crossover, I'll wait.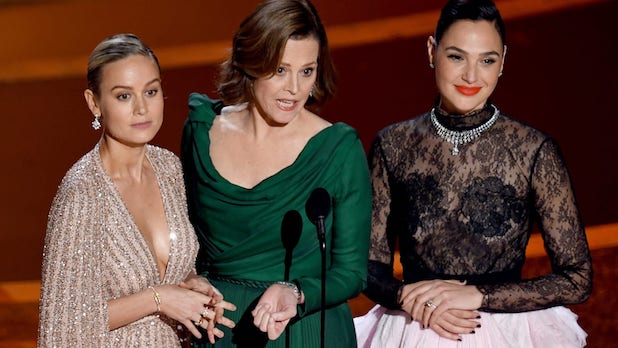 The results in most categories weren't particularly unexpected but there still were some surprises. Although I didn't exclude the possibility of "Parasite" winning more than one reward, the most probable outcome was it getting acknowledged only as the best foreign film. That's because the Academy doesn't like to read subtitles. Ultimately, however, it got the rewards for the best original script, the best direction and — as a first foreign language film ever — the best picture. A proof that the Academy finally learnt to read.
Any more surprises? The best animated short category, which finally wasn't dominated by Disney (good!), and the sound categories. Usually, the films about war and races are the favourites in these categories but when it comes to them clashing, war often films take everything. This time, however, "1917" had to share with "Ford v Ferrari". Which is fair because the former's sound is fantastically manipulated and the latter's sounds are fitted just in the right places. It's almost as if the Academy has finally learnt the difference.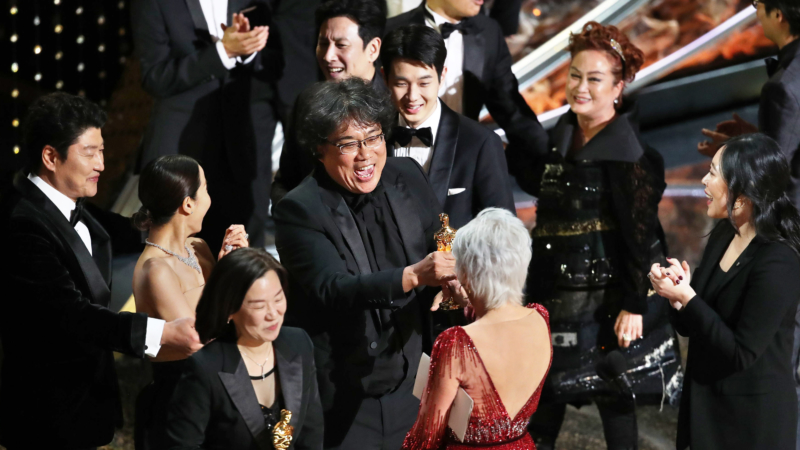 It was certainly a gala which will be remembered for a long time. Despite some of the rewards (and nominations) being a bit too safe, all in all, I am quite satisfied with the results. And I hope there are more good changes coming (like: nominate more female directors and POC in general, Academy — make their work visible).