The Reveal
Holy smokes! I was surely not expecting the announcement of the new Nintendo console. We had only known it as the Nintendo NX up until yesterday. Now we introduce something that excited us all. The announcement and reveal of the Nintendo Switch!
Third Party Support
We don't have much information about the Nintendo Switch, including specs (other than "industry leading chip"), but we do have a lineup of Third Party support. This is a very good thing for Nintendo if they want to stay afloat. Nintendo has always been special for their First Party games, but the Nintendo Switch is going to need Third Party support. The Console will also feature support for the Unreal Engine 4.
Third Party Support Shows Investment Value
Although Bethesda is shown as a Partner, and Skyrim was shown in the Nintendo Switch announcement, there are multiple reports stating that Skyrim is not a confirmed title for the Nintendo Switch.
Hardware
The most fantastic thing about the reveal video was them showing off the hardware. Nintendo has always been great at making ideas come alive in innovative ways. The Nintendo Switch will have full Amiibo support, so be sure to have them decorating your room, and easily available.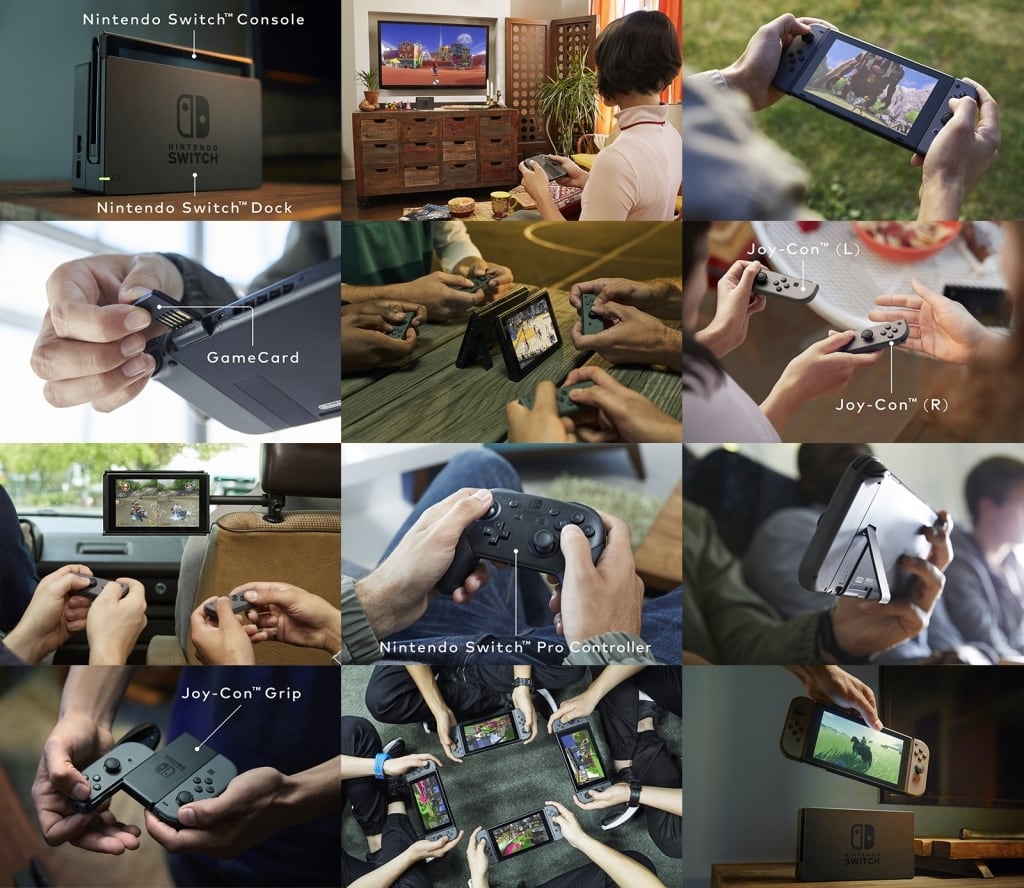 It seems as though the entire console is built into the screen. When the Switch screen is docked, you can play games on your TV. The great thing about the Nintendo Switch hardware is how flexible it is. You can put what is called Joy-Cons on controller, then take them off to attach to the side of the Nintendo Switch screen. You will be able to use the screen like a Nintendo Wii U controller.
From the trailer, it doesn't seem like the Nintendo Switch will have a touch screen. Perhaps this is something we can look forward to, such as an upgrade. The console visuals look impressive, and hopefully the games will look as good they do in the video. Screens on phones, as well as the PS Vita, are impressive. So I have no doubt that the screen on will look great when in handheld mode. Still, there is no word on 2K or 4K support.
The return of the cartridge is exciting. There had been reports with the announcement of Legend of Zelda: Breath of The Wind had a patent for cartridges, and it seems that speculations were true. This time, we won't have to blow in them. It's going to be an exciting time to go back to the cartridges after so long. Before they had a huge disadvantage to the size they could contain, which is why Final Fantasy VII was released on PlayStation and not on Nintendo 64. Today, we can say that with Nintendo's confidence that these limitations have been lifted. At the very least, lifted enough to not suffer from limiting game development. Cartridges are sturdier than discs and can potentially save on a lot of space. Downloadable games may be great, but there will always be room for physical media.
Future of Handheld
With the Nintendo Switch being a hybrid console, where does that leave the future of the Nintendo 3DS? The Nintendo 3DS has been a hugely successful system in its own right. A very clever way would be to have both consoles to communicate and interact with each other.
With Nintendo showing finally showing us what they have been working on, we cannot be more excited. Looking forward to seeing what games they come up with to make use of the hardware. We do hope that our Wii and Wii U peripherals don't go unused. Already, we know that the Nintendo Switch will not have backwards compatibility since it doesn't have an optical drive.
For more gaming news be sure to Bookmark our page or follow us on Twitter and Facebook!