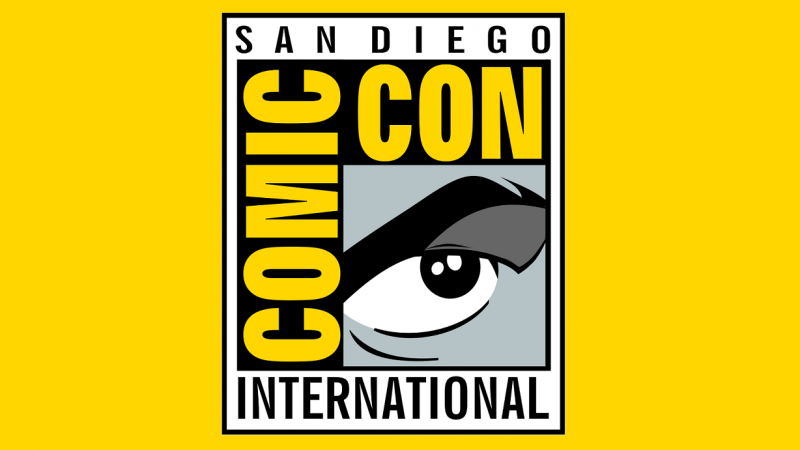 Welcome to the second part of our big San Diego Comic-Con 2017 summary. Today we'll talk about the most interesting Friday events. Without the unnecessary empty introductions, let's move on to the goodies. First, a table of contents for your convenience.
TABLE OF CONTENTS
FRIDAY, OR THE ATMOSPHERE GETS HOTTER
Although Friday was still mostly comic-booky, there were a few interesting television panels as well.
Young Justice
Everyone wanted "Young Justice" to come back, but only a few believed it actually would. Well, it will! And hence the panel.
The producers of the series, Greg Weisman and Brandon Vietti, together with Phil Bourassa (character designer) thanked all the fans. They said the third season wouldn't be produced without their support. And beacause now "Young Justice" is being made for a digital platform, the creators have more freedom and aren't as restrained by network requirements. Most of the 10 episodes of which the season will comprise have already been recorded.
The panelists showed the evolution of the series art and presented some new materials. Take a look at one below.
The new season will be available in 2018.
Back to table of contents.
Marvel: Spider-Man and His Amazing Friends
Another Marvel's panel. This time it was all about the famous web-slinger. The panel included writers: Cullen Bunn, Jason Reynolds, Robbie Thompson, David F. Walker and Jason Latour as well as the Spider-Man line editor Nick Lowe.
Bunn talked about the "Venomverse" event. It is supposed to show why Eddie Brock is the best Venom ever.
Lowe announced new story ark in "Amazing Spider-Man". It will be titled "Fall of Parker" and begin in issue 789, out in October.
Reynolds spoke about his young adult novel, "Miles Morales: Spider-Man". The focus of the story would not be the Spidey himself, but rather the man behind the mask.
Lowe said that Robbie Thompson i Chris Bachalo will be writing the "Spider-Man & Deadpool" series since November. For some time the title will change to "Spider-Man vs. Deadpool". There will be some flashforwards to older Peter Parker and Wade Wilson in a pension house. As for other series, there will be: "Ben Reilly: The Scarlet Spider", "Venom" (supposedly Venom will come back to his roots), "Peter Parker: The Spectacular Spider-Man" (we will learn the truth about Peter Parker's alleged sister) and "Amazing Spider-Man: Renew Your Vows" (for the fans missing Peter and MJ's marriage).
Latour talked about "Spider-Gwen". As he said, for Gwen "with great power comes great accountability". She differs from other Spider heroes because she's a police officer's daughter. In the upcoming "Gwenom" story something cataclysmic will happen.
Back to table of contents.
DC Universe Rebirth
DC Rebirth panel was hosted by Tiffany Smith who invited Marguerite Bennet, Julie and Shawna Benson, Bernard Chang, Tim Seeley, James Tynion IV, and Robert Venditti.
The writers began with short speeches about what has changed since Rebirth was announced. Bennet got a chance to write a series about her favourite character. The Benson sisters still can't believe they got involved in the project. Seeley is happy to have been able to write 30 issues of "Nightwing". Tynion IV is excited to show why he loves the characters he's writing in "Detective Comics". And, according to Venditti, it's really difficult to work on issues coming out every two weeks. He really admires all who manage to do this.
Next they talked about their respective series. Catwoman will temporarily join Birds of Prey soon. In the upcoming story "Manslaughter" we will see all the female heroes and villains of Gotham. They will have to take matters into their own hands as all men mysteriously fall ill.
Tynion IV said his "Detective Comics" is about Batman's humanity. The next issues will be a little bit psychedelic. They will lead to a breakthrough moment. Interestingly enough, it was this moment that Tynion described to DC when pitching his ideas for the series. He also announced Tim Drake's return. We will learn why he was imprisoned by Mr. Oz and who was his cellmate.
Tim Seeley wants to revisit Spyral in "Nightwing". It will also grant him a possibility to deepen Dick Grayson's relationship with the Huntress.
While speaking about "Batwoman" Bennet stressed she's writing the story about Kate Kane's lost year. It will lead to something big, something that will change Batwoman's life forever.
Chang enthusiastically talked about his cooperation with Dan Jurgens on "Batman Beyond". They share their responsibilities: Jurgens writes the story and Chan breaks it up into panels and writes the dialogues.
Venditti talked about how challenging it is to write diverse characters. His "Hal Jordan & Green Lantern Corps" is a difficult but satisfying experience".
Back to table of contents.
Lucasfilm Publishing New Star Wars Stories from a Galaxy Far, Far Away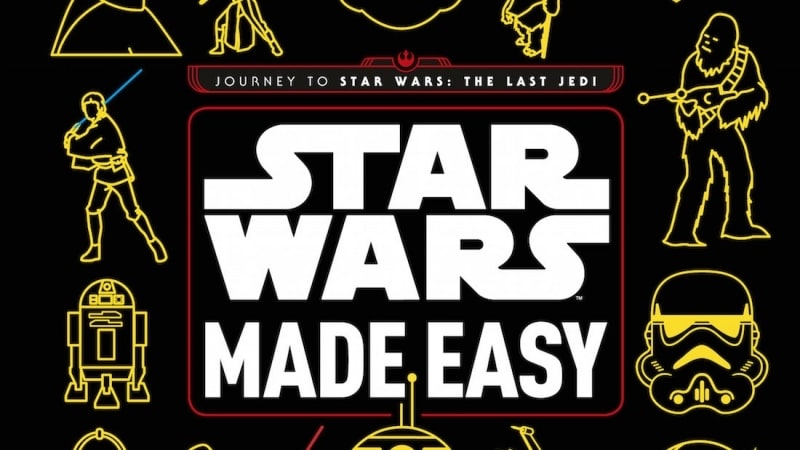 SDCC wasn' particularly Star-Warsy (Lucasfilm and Disney host their own Star Wars Celebration con for that kind of stuff), but there was a panel about the upcoming novels and comic books from the universe. Here are the most interesting announcements.
Christian Balubelt will write "Star Wars Made Easy". It will be a very accessible introduction to the Star Wars universe.
In "Star Wars Battlefront II: Inferno Squad" by Christie Golden the traditional villains will fight with the traditional heroes. Eventually, it will turn out no one is what we thought they were.
Claudia Gray will write a young adult novel titled "Leia: Princess of Alderaan". It will tell how Leia got involved in the Rebellion.
In September IDW (!) will release an all-age comic book called "Star Wars Adventures". The first issue will tell a story about Rey before she met BB-8. There will also be a back-up story set during the prequel trilogy.
In February Marvel will release a comic book adaptation of the Thrawn novel by Timothy Zahn. A Mace Windu comic book is also planned.
And finally, we know who will write the novelisation of "The Last Jedi" – Jason Gry.
Back to table of contents.
DC's DARK NIGHTS: METAL and Dark Matter
Dan DiDio hosted "The Dark Nights: Metal and Dark Matter" panel. Both creators behind the event were present: Scott Snyder and Greg Capullo.
Snyder wants to bring Batman deeper into DC Universe and write a story as crazy as the famous DC Crises. The story begins with the arrival of the Dark Knights who represent Batman's worst fears. There are a lot of hints hidden in Snyder's New 52 Batman run. Fortunately though, you don't have to read them to understand "Metal". As for the role of the story, Snyder wants it to be an antidote for the modern world's stress.
Capullo said he would be drawing almost every DC character. He particularly enjoys Swamp Thing. He added the the story will feel like a huge rock concert.
Then the concept art for the Dark Knights was shown. You can see it below.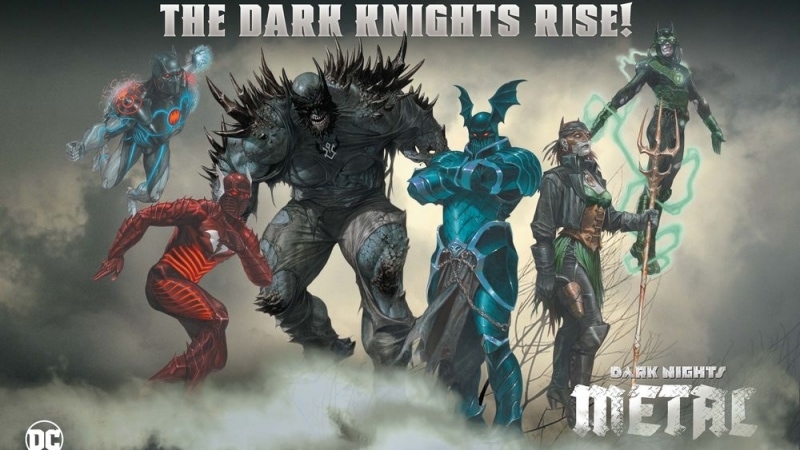 In the Dark Multiverse all our inner fears take a real form. The Dark Knights are the Batmen from Bruce Wayne's worst nightmares. Each Dark Knight tie-in comic will tell about their origins and plans. The story is designed to be really surprising.
Some of the creators behind "The Dark Matter" comics also appeared on the scene. The line is supposed to introduce new concepts into the DC Universe. Here are the series announced:
"Damage" by Robert Venditti and Tony Daniel,
"Immortal Men" by James Tynion IV
"Brimstone" by Phillip Tan
"New Challengers" by Scott Snyder and Andy Kubert
"The Silencer" by Dan Abnet and John Romita Jr.
"The Terrifics" by Jeff Lemire (!) and Ivan Reis
And if "Terrifics" does sound a little bit similar to "Fantastic 4" – that was the plan. The new team will consist of Mr. Terrific, Phantom Girl, Plastic Man and Metamorpho. Lemire plans for it to be a DC's equivalent of Marvel's Fantastic Four.
As for the man himself, he will also write a Hawkman miniseries called "Hawkman Found" and it may later become a longer Hawkman series.
During the panel, they stressed the big role of the artists. They aim for the artists to comprise at least 50% of the creative teams.
And if the above announcements weren't enough for you, here are two more: there will be a Metal crossover with the Green Lantern series and there will be a Duke Thomas solo series, called "Batman: The Signal".
Back to table of contents.
Middle-Earth: Shadow of War
The latest Lord of The Rings game and the sequel to Middle-Earth: Shadow of Mordor is coming out soon. The guests of the game's panel were: Monolith Productions' Michael de Plater and actors Troy Baker, Laura Bailey and Kumail Nanjiani. They showed three clips.
The first video material was devoted to Kumail Najiani and his comic relief character The Agonizer. You can watch it below.
The second video (exclusive to SDCC attendees) showed Bailey's character. She is called Eltariel, The Blade of Galadriel. She's a mysterious figure, probably an assassin sent by Galadriel. She will enter into an uneasy alliance with the protagonist and Celebrimbor. The character was created with Bailey in mind.
Before they showed the third clip, they invited Pollyanna McIntosh to join the rest of the panelists. She will play an interesting incarnation of Shelob.
As for the gamepley, de Plater said Shadow of Mordor was just a proof of concept. In Shadow of War they will further develop the Nemesis system to provide the best experience possible.
Back to table of contents.
Twin Peaks: A damn Good Panel
The "Twin Peaks" panel was all you could imagine: quirky, funny and spoiler-free. Moderated by Damon Lindelof, it provided some nice pieces of information in a damn good atmosphere.
It all began with a short video message from Lynch who could not attend SDCC. Watch it below.
Then, the actors: Kyle MacLachlan, Naomi Watts, Matthew Lillard, Everett McGill, James Marshall, Kimmy Robertson, Dana Ashbrook, Tim Roth and Don Murray answered a few questions.
Lidnelof asked the how they had found out they would appear on new "Twin Peaks". McGill's story was one of the most interesting ones. Lynch tried to find him online. He tracked an old telephone number to an empty house were McGill stored some cars. Fortunately, the actor was present there when the phone rang. Although he hadn't talked with Lynch for 20 years, they immediately caught up like good friends.
Kimmy Robertson also shared a funny anectode. After talking to Lynch on the phone she was so shocked, she actually crawled under her bed.
Naomi Watts, on the other hand, was more active. Together with Laura Dern, they tried to coax Lynch into doing his next project with them. This new project just happened to be "Twin Peaks".
When they were shooting the series, the cast received scripts containing only their own scenes. They hadn't learnt how it all connect until the episodes aired on TV. For all of them it's an amazing experience.
Another interesting piece of info is that ad libbing was not particularly welcome. Lynch wanted the actors to stick to the script as much as possible.
For more watch the panel below. It's worth it!
Back to table of contents.
IDW Publishing: The Rise of Fall
During the Rise of Fall panel IDW presented their plans for new and existing comic book series.
The biggest piece of news is that the publisher acquired Sonic licence from Archie Comics. In 2018 a completely new, all-ages series will come out. It will feature lots of fun and many Sonic supporting characters.
"Samurai Jack" series will see the protagonist lost in time. He will find himself in different places and he may even meet himself. The series will have the feel of the previous ones but with an updated style.
New "Jem & the Holograms" series will be called "Dimensions". It will be a four-issue anthology, but that's all we know for now.
As written above, IDW will also publish a "Star Wars" series. For more details come back here.
There are a few "Star Trek" projects to come too. Together with Eaglemoss IDW will prepare a Star Trek Graphic Novel Collection, featuring the most important "Star Trek" comics. With the premiere of "Star Trek Discovery" there will also be a tie-in comic book written by one of the series screenwriters. And finally, the "Star Trek Boldly Go" series will feature a six-issue story arc called "I.D.I.C.". We will see parallel realities with differnt Kirks: an evil one, a female one or even a one brought up by Romulans.
And last, but not least, IDW will publish "Goosebumps" comic books. Featuring the monsters from the original books, they will tell completely new stories.
Back to table of contents.
Netflix: Marvel's The Defenders
Netflix Marvel heroes finally come together in "The Defenders" (out today). Jeph Loeb moderated the panel, which also featured: Marco Ramirez (the showrunner), Jessica Henwick (Colleen Wing), Deborah Ann Woll (Karen Page), Élodie Yung (Elektra), Sigourney Weaver (Alexandra), Finn Jones (Iron Fist), Mike Colter (Luke Cage), Krysten Ritter (Jessica Jones) and Charlie Cox (Daredevil). First they showed the trailer. Check it out below.
According to Ramirez, it was really challenging to write "The Defenders". Each character is independent, so to bring them together was difficult. Ramirez also didn't want it to feel like the heroes are visiting Daredevil's world. Instead, he tried to make it the Defenders' world – something original and fresh.
The cast members shared some secrets. Élodie Yung confirmed Elektra is alive. She's also amnesiac and the villaineous ALexandra wants to use her as a weapon.
Finn Jones thinks of "The Defenders" as the next arc for his character. Meeting three other heroes will make Iron Fist more responsible.
Loeb had also a great present for the fans. They screened the whole first episode. We will have to wait to watch it until August 18th. Meanwhile, make sure to check out the panel recording below.
Back to table of contents.
That's it for today. Make sure to comment (below or our Facebook or Twitter) and stay tuned for part two coming tomorrow!
Sources: TV Line, Bleeding Cool, Newsarama, Comic Book Resources, Collider, BirthMoviesDeath, Flicks and the City