With the release of the Cherry Blossom event in Monster Hunter: World, we have been given new challenges and the opportunity for some sweet rewards through events. We even get what is arguably the best Great Sword in the game. This is the last weekend the Cherry Blossom Fest will be up for. So I'm going to go over things you should be doing so you can get the most of the event. This event has many great ways to get Decorations, Zenni, etc. This is the first Seasonal Event and it shows off what Monster Hunter: World has to offer and opening new and exciting things to look forward to. The event ends April 19th. So this is the last weekend to get in on some nice rewards.
New Weapon and Armor
With the Cherry Blossom Fest, we got brand new! We get the Blossom armor set that you get by using Spring Blossom Tickets. You'll need three Spring Blossom Tickets per armor piece, fifteen in total to complete the set. You get Tickets as a log-in bonus, as well as by doing Limited Bounties! The Bounties are super easy! An Event, Hunt a certain monster, and complete a High-Rank Challenge. Challenges are found in the Gathering Hub – just talk to the Arena Lass. If you find them difficult, remember that you can always send out an SOS Flare or you join someone else's hunt.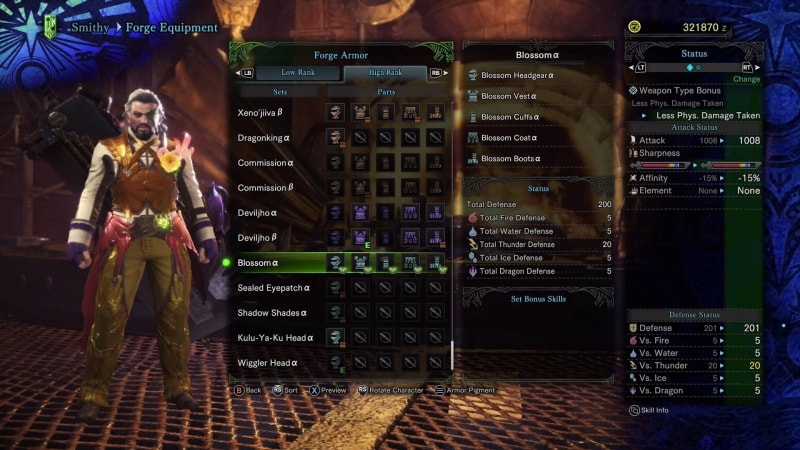 The brand new Weapon we got was the Wyvern Ignition. Right now, it is arguably the best Great Sword in the game. If you're looking for a powerful new weapon or maybe you're looking to discover the magic of Great Swords. To get the Wyvern Ignition, you'll need to do a Rank 5 Event called Every Hunter's Dream. The Wyvern Ignition was created through a design contest. Seriously. The thing is powerful. Those who use Great Swords don't even need to be told how powerful the weapon is. The sharpness, however, is lacking. So Handicraft may be very useful. Both of these items will be available all throughout the Cherry Blossom event. So you only have until the 19th of April (UTC).
Events Available
Throughout the Cherry Blossom Event, we have many events that offer incredible rewards. Here is a list of them. I will also be marking what I believe you should be doing. I'll also be adding the HR rank minimum requirements. All of these will end on April 19th, unless stated otherwise.
Up at the Crack of Dawn  – This is for early game armor spheres.
Every Hunter's Dream (HR 8) – Master Craftsman's Blueprint for the Wyvern Ignition Great Sword. ***
A Rush of Blood (HR 13) – This is a brand new Mega Man event which earns you the Mega Man Ticket to make gear for your Palico! This Event will be up from the 13th of April to the 26th. Capcom hasn't forgotten about our blue hero! You can get more info on this here. There is even cool retro music! ***
Chew The Fat – Parts of Great Jagras
Ya-Ku With That? (HR 6) – Twitwi Ya-Ku and Kulu Ya-Ku
Greeting the Gluttons (HR 6) – Meal Vouchers!
Wicked Wildspire Warfare (HR 8) – Armor Spheres for the early game.
Flesh Cleaved to Bone (HR 8) – Armor Spheres for the early game.
Kirin The Myth (HR 8) – Nothing more than Kirin Parts.
The Poison Posse (HR 8) – Commendations and Wyvern Bones.
Scrapping with the Shamos (HR 11) – Tickets for the Sealed Eye Patch.
A Flash in the Pan (HR 11) – Tickets for a cool pair of shades. These shades come with level 1 Stun Resistance and three small Decoration slots.
Egg Lovers United (HR 11) – Kulu Ya-Ku headpiece tickets. Also, a great place to bring your Bandit Mantle and farm Zeni since you get trade-in items such as Steel, Silver, and Golden eggs.
Wiggle Me This (HR 11) – Tickets for the Wiggler headpiece. One of the single pieces of gear for co-op play. Also cute! ***
Triple Threat Throwdown (HR 13) – Decorations! Decorations! Decorations! ***
Rollin' With The Uragaan (HR 13) – This is for High-Ranked Armor Spheres! Time to bulk up! ***
Deep Green Blues (HR 13) – Golden Crowns.  If you're looking for Golden Crowns for Smallest and Largest monsters, this is the place to do it! There is one for each area! ***
Wildspire Bolero (HR 13) – Golden Crowns. ***
Coral Waltz (HR 13) – Golden Crowns. ***
Effluvian Opera (HR 13) – Golden Crowns. ***
Rock N' Roll Recess (Hr 13) – Golden Crowns. ***
Relish The Moment (HR 50) – Tempered Deviljho! This is for farming Augmentation Stones for your weapons. Bring Blight Immunity because you don't need Defense Down Blight when the Golden Pickle already hits hard enough. ***
A Simple Task (HR 30) – Threat Level 2  tracks!
Tracking the Delivery (HR 50) – Threat Level 3 tracks! For Tempered Investigation Goodness.
Snow & Cherry Blossoms (HR 30) – Bonus HR points! Rank up! ***
*** I have marked all of the Event missions I highly recommend focusing on!
Handler and Poogie Outfits
Not only do the NPCs in the Gathering Hub get new outfits, your Handler and Poogie also get brand new outfits. If you've logged on, then you got these things automatically. Although, one thing to keep in mind is that you change the Handler's outfits through the Housekeeper in your room.
Other Awesome Event Bonuses
Just about everything at the shop is half off. Fertilizer at the Ancient Tree is half off. On top of that, food is also half off.
However, if you want to get the best bonus, you'll want to be eating in the Gathering Hub for the Seasonal Cherry Blossom meal. The Spring Blossom Platter!
What else to look forward to
There is a Devil May Cry event coming soon, but it still hasn't gotten a release date. Certainly, something to keep on the lookout. This is the first Seasonal event we have gotten in Monster Hunter: World. It was really great seeing the decorations and even giving us new aesthetics and a powerful new weapon. I think it's safe to say that amongst the many games, Monster Hunter: World is here to stay. I look forward to future events that give players chances to earn new weapons, new armor, and exciting Event Challenges! This gives both New and Seasoned players something new and exciting to do! This is just the start.
Monster Hunter: World is available on Xbox One and PS4. You can pick up the game here.