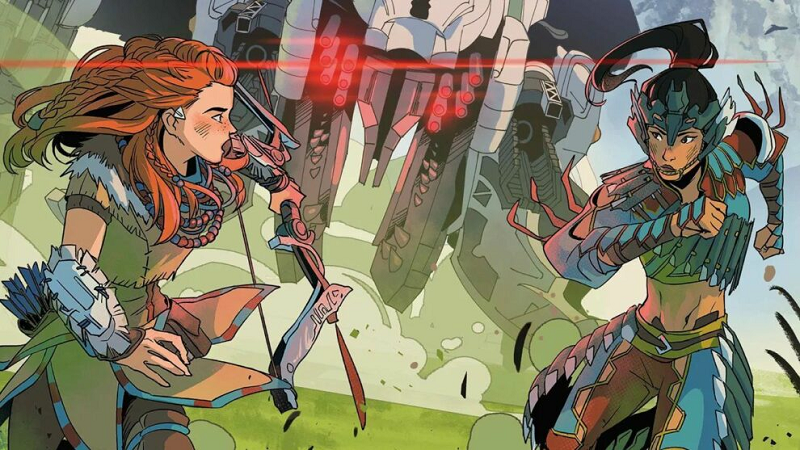 This year, San Diego Comic-Con could not take place as usual (thanks, COVID-19), but the organisers prepared an alternative: Comic-Con @ Home. Available for everyone free of charge, it's a collection of pre-recorded panels with various creators and artists. At Geekified, we will be covering the most interesting ones.
Horizon Zero Dawn Comes to Comics panel was moderated by Andrew Sumner (Executive Vice President at Titan) and Duncan Baizley (Editorial Director at Titan) and included: Ben McCaw (Narrative Director at Guerilla), Jan-Bart van Beek (Studio Director & Art Director at Guerilla), Gilbert Sanders (Principal Artist at Guerilla), Anne Toole (writer), Ann Maulina (artist).
First off, everyone revealed their involvement with the project. Guerilla has always wanted to do a comic book set in the universe of one of their games and found a way to do that with "Horizon: Zero Dawn". Jan-Bart van Beek, Ben McCaw, and Gilbert Sanders, who are serving as art directors on the project, brought in Anne Toole, who had previously worked on the Hunters Lodge storyline for the game, and Ann Maulina, the author of a web-comic "Raruurien", which drew Guerilla's attention. Ann was quite shocked when she was first contacted but she was also thrilled because "Horizon: Zero Dawn" was her favourite game and it was a dream come true to be involved with the IP.
Ben McCaw revealed that the core storyline for "Horizon: Zero Dawn" was written by a small team of writers but, as the project went on, they became aware they need more people. When Anne Toole was brought in, she had already amassed quite an impressive CV in the games industry. She brought a unique perspective to the Hunters Lodge storyline and the character of Talanah, who is also the main focus of the comic book story. She also wrote another comic book based on a video game, "Halo", which — according to McCaw — had a lot of characteristics they were expecting from the "Horizon" comic.
Anne Toole said it was fantastic to work on the project, especially that she got to have a sort of a "writer's room" experience as opposed to writing alone. She admitted that writing for a comic book is different than writing for other media — comics has page number restrictions and involve figuring out page compositions — but, on the other hand, they also give freedom of using different costumes, expressions and poses.
Speaking of the multiple people involved, Ann Maulina was at first a bit confused because she got a lot of feedback from different people: the writer, the studio etc. Luckily, the editors helped to compile the feedback. She also spoke highly of her cooperation with Anne Toole (with whom she communicates mainly through scripts). Toole often attaches some image references to her writing and it helps Maulina position the characters. She loves drawing Aloy and Talanah and had some fun basing new machines on existing animals (one will be based on a velociraptor).
Guerilla chose Talanah as the main character for many reasons. She is involved with a lot of action, the game tells only a part of her story, she is great for exploring the tribal world of "Horizon" and she is another awesome female protagonist. She's also perfect to portray the interactions between the machines, the tribes and the natural world.
Talanah and Aloy won't be the only characters that the players will recognise. Issue 0 will involve some more known faces but the subsequent ones will also introduce some new ones. There will be some new machines and locations to look out for too.
The comic takes place immediately after the end of the first game but the story stands on its own and you don't have to know the game to enjoy it. There will be some ancillary material to help the newcomers around.
Guerilla is open to exploring more characters through the medium of comic books and, hopefully, this title is successful enough for them to be able to do it.
For more, check out the panel below.