Deadline reports that Disney has extended its relationship with Ryan Coogler, the creator of "Black Panther" (aka the best MCU film ever created, and don't even fight me on that). The evil corporation signed an exclusive deal with Coogler's media banner Proximity Media. Under the contract, Coogler will develop TV shows for Disney and one of these will be a series based on the Kingdom of Wakanda. It's a fantastic way to expand the Black Panther universe, which is one of the most interesting and imaginative parts of the Marvel Cinematic Universe. Hopefully, the series will be as good as the film.
According to Variety, Jon M. Chu, the director behind the wonderful "Crazy Rich Asians" and the upcoming "In the Heights", is set to helm the Hollywood adaptation of the famous Broadway musical "Wicked". Previously, the film was to be directed by Stephen Daldry but he left the project due to scheduling conflicts. Chu seems to be a fantastic replacement and I am sure he will make "Wicked" look insanely good (just look at the crazy rich visuals in "Crazy Rich Asians" if you're not convinced), so the news makes me really happy.
Mike Flanagan, one of the most talented contemporary horror directors, has revealed the cast of the upcoming "The Midnight Club" adaptation. Here's what he wrote on Twitter: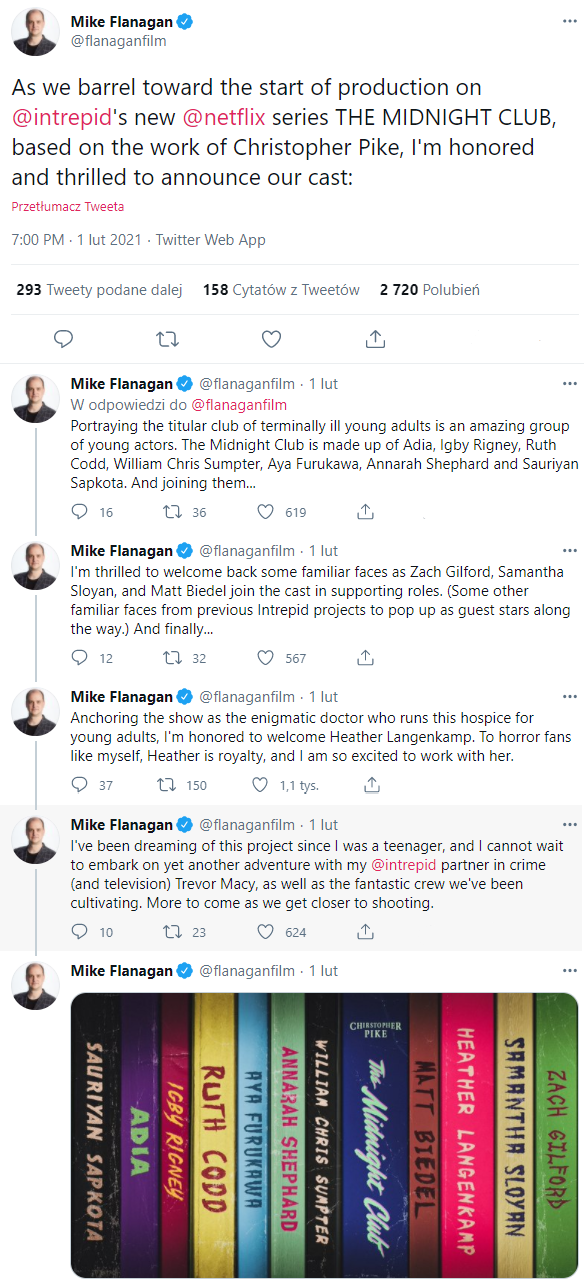 It seems Flanagan will mainly use a young, relatively new and, most importantly, diverse cast, which is excellent. There are also some really fantastic surprises for horror enthusiasts, including the casting of Heather Langenkamp known from her role as Nancy Thompson in "A Nightmare on Elm Street". I'm sure we're in for a delicious horror treat from Flanagan yet again.
My love for Joss Whedon's work has undergone a hard trial recently, as more and more unsettling news about the creator has come out. So, although I have been waiting for his latest creation, "The Nevers", I knew it would be problematic. Luckily, Whedon "stepped down" from the project, so I can feel a bit less guilty of potentially enjoying it. And it seems I will. The first trailer for the HBO series shows a bunch of super-powered women in Victorian England. The thing that speaks to me the most is that the super-powers are shown here as a metaphor for "otherness", a theme I particularly enjoy in superhero stories. You can watch the trailer below.
The sequel to one of my favourite comedy films, "Coming to America" has just received a new trailer. While "Coming 2 America" will use the familiar sequel trope of premise reversal (now Akeem's son will be coming from America to Zamunda), it seems the film will also tackle the very up-to-date issue of gender roles. It looks fun and I'm definitely looking forward to seeing it.
The Lionsgate box office hit "Wonder" is going to get a prequel, Deadline reports. Based on the graphic novel "White Bird: A Wonder Story" by R.J. Palacio, the film will tell a story of a young Jewish girl hidden away by a boy and his family in Nazi-occupied France during World War II. Stephen Chbosky won't be returning to direct the prequel and, instead, Marc Forster ("Finding Neverland", "Christopher Robin") will helm it. Having done successful family films before, he is definitely the right choice for this kind of project. And he has just found one of the stars: Gillian Anderson will play Vivienne — a woman who along with her family will have to make difficult choices. I can't wait for more news!
Renée Zellweger is going to star in a new true-crime limited series for NBC, "The True Thing About Pam". According to Deadline, Zellweger will play Pam Hupp, a woman involved in the mysterious murder of Betsy Faria. The notorious case, which has not been entirely solved yet, is definitely "twisty and turny", and, hopefully, the series will do justice to that. With already attracting a high profile name, I'm sure this will be, well, the case.
Michelle Williams is set to star in the Peggy Lee biopic "Fever", which will be directed by Todd Haynes. The film has been long in development (at least since the early 2010s) but has undergone a series of difficulties with the death of its screenwriter Nora Ephron, the departure of its original star (Reese Witherspoon) and the takeover of Fox, where it was then being developed, by Disney. Now, the project will come from MGM, Deadline reports, and a different screenwriter — Doug Wright. Well, it seems it will finally get made. Fingers crossed!
There will be a Japanese remake of Vincenzo Natali's "Cube" and I'm so excited! Watch the trailer.
After the success with last years' "The Invisible Man", which updated the source material and made it very relevant to contemporary times, Universal continues reimagining its classic monsters. Next up is "Dracula", which — as Variety reports — will become a… science-fiction western. Yep, you read that right, we're going to get a Firefly/Cowboy Bebop-esque take on the famous vampire. And all this from Chloé Zhao, the director behind the critically acclaimed "Nomadland" and the upcoming Marvel epic "Eternals". Can't wait!
Cathy Yan, the brilliant director of Dead Pigs and last year's fantabulous Birds of Prey, has got another project in the works. This time, she will helm The Freshening based on Rachel Khong's short story of the same name. Per Variety, it is set in a near future where tensions over race and gender have reached a dangerous and violent extreme. To fight this, the U.S. government initialises a public health policy nicknamed "The Freshening". Under the initiative, every American receives an injection which makes everyone see others as the same race and gender as themselves. But then, a street drug hits the scene, promising a chance to see the world as it really is. This definitely sounds interesting and should be a perfect match for Yan's unique artistic sensitivities.
HBO has just released a first official trailer for its documentary series "Allen v. Farrow". As the title suggests, the series will tackle the notorious scandal of Woody Allen allegedly sexually abusing his then seven-year-old daughter. Kirby Dick, Amy Ziering and Amy Herdy (The Hunting Ground, The Bleeding Edge) are helming the project, so you can expect a solid investigative work. Watch the trailer below.
Waiting for the "Prince of Persia: The Sand of Time" remake? You'll wait more. Ubisoft has issued the following  statement on their social media channels:
Hopefully, the delay won't mean crunch for the developers!
This one's really wild: Lil Yachty is developing a comedy heist-film based on… the card game Uno. Yep. It will be set in the underground hip hop world of Atlanta, so that's one thing to look out for but otherwise… Wow, Hollywood. Just wow.
Ever wondered how Guillermo del Toro's kaijū spectacle "Pacific Rim" would translate into anime? Well, on March 4th, you'll wonder no more. Netflix will be releasing an anime series set in the "Pacific Rim" universe, subtitled "The Black". According to the official synopsis, the series will take place in Australia, which "has been overrun by Kaiju, forcing the evacuation of an entire continent. Left behind, teenage siblings Taylor and Hayley embark on a desperate search for their missing parents, teaching themselves to pilot a battered, long-abandoned Jaeger to help in their quest and give them even the slightest hope of surviving". Here's the trailer.
Marvel's "Blade, the Vampire Slayer" has found its writer according to The Hollywood Reporter. Stacy Osei-Kuffour (HBO's "Watchmen") will pen the project and she will be the first black woman ever to write a screenplay for a Marvel film (which is long overdue). Congratulations!
And lastly: a very sad piece of news. Christopher Plummer, one of the most hard-working actors in Hollywood, whose career spanned seven decades passed away this Friday. Among his many roles, he was probably best known for portraying Captain von Trapp in "The Sound of Music" and, more recently, as Doctor Parnassus in "The Imaginarium of Doctor Parnassus" and as J. Paul Getty in "All the Money in the World". May he rest in peace.