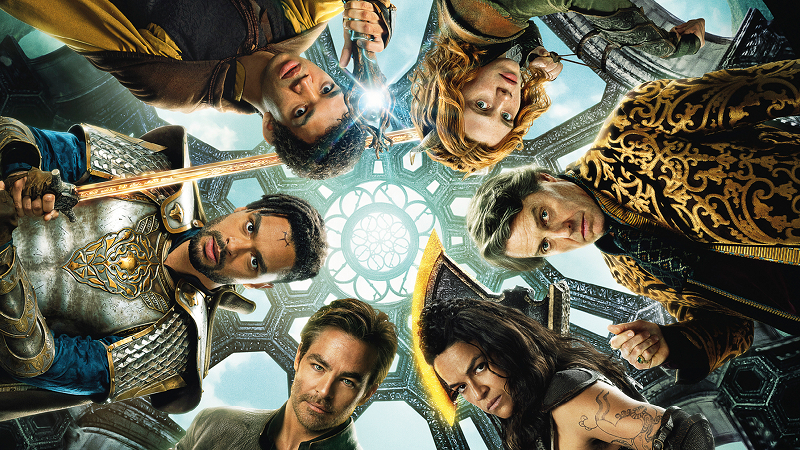 I have to admit: although I have always been aware of "Dungeons & Dragons", I have never played the game nor delved into any of the numerous pop-culture products based on it. Because of that, I went to see the film by Jonathan Goldstein and John Francis Daley with a clear head. I was just counting on good old-fashioned fun, as I really liked the directing duo's previous cinematic endeavour, the hilarious "Game Night". And then there was the cast, which included Chris Pine (aka the best Chris of Hollywood, period) and Michelle Rodriguez (still gutted that her character had to die in "Lost"). I love both of them so I just couldn't pass on the opportunity to see them on screen together. And, as a D&D ignorant, I had a lot of fun!
After a heist that goes wrong, two thieves: bard Edgin Darvis and barbarian Holga Kilgore get out of prison and find out that their previous partner betrayed them. Trying to retrieve an artefact stolen by him and regain the trust of Edgin's daughter, they discover a larger conspiracy, one that could threaten all of the Forgotten Realms.
The screenplay follows the classic tropes of an adventure fantasy film. There's the gathering of the team, the bond-making adventures, the not-so-final fight which leads to another big clash with the true villain, and, finally, a lesson the characters learn based on everything they have experienced. There are also some elements of heist films, which are pretty interesting in a fantasy setting, but, nevertheless, not particularly innovative. So why does the story work?
First of all, because of the characters. Goldstein, Daley and their co-writer Michael Gillo have created a team of really likeable individuals to whom the audience can instantly relate. A lot of it comes from the fact that each of them is flawed. Edgin has had some bitter experiences in life; Holga was banished by her own people for falling in love with an outsider; Simon, who accompanies them, is a sorcerer who doesn't believe in himself; and the druid Doric is a cute constant complainer (whose sharp remarks are almost always on spot, and she can also change into an awesome owl-bear). It's really hard not to like this gang, and every member of the audience should find a bit of themselves in one or more characters.
Secondly, although I have taken part in only one RPG session my whole life, I got the impression that the film succeeded in recreating the atmosphere of the game. Watching "Dungeons & Dragons" is, therefore, a little like watching a pack of old friends playing. Of course, not every element is recreated (fret not, there are no character attributes or dice), but there's this home-brew feel about the story. Partly, because the stakes the characters are fighting for are personal, and the world-saving is only a side-effect of the adventure.
Thirdly, although the script is not free of clichés when it comes to its structure, something that works incredibly well is the balance between comedy and drama. It's the one thing that today's blockbusters often lack, but, fortunately, not in this case. The emotions in most of the scenes resonate properly, and the comedic parts serve as a welcome addition. Daley and Goldstein's wit is definitely felt in these moments. Granted, they definitely laughed at more things and did it more frequently in "Game Night", but one thing didn't change — the quality of the jokes is still top-notch.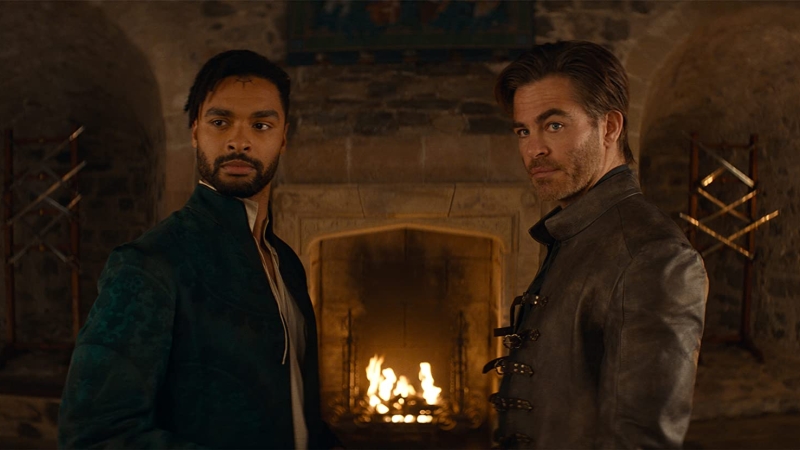 Fourthly, although the messages in the characters' stories can probably be seen as a tad banal, they are served very subtly and inconspicuously. As a result, "Dungeons & Dragons" is quite a clever tale about grief, confidence, trust and the fact that sometimes it's simply worth doing the right thing. By no means should you expect a philosophical treatise or a profound social commentary, but Goldstein and Daley's film is simply a good entry point for further discussions and deliberations (which is also D&D — coincidence?).
Fifthly, when it comes to production values, "Honor Among Thieves" is more than decent. The sets are breathtaking, the cinematography beautiful and the editing very competent. The film never loses its pace and watching it is a pleasure. Practical effects, such as animatronics, fancy costumes, outdoor locations and meticulously built sets, add to the overall quality. And they're a welcome refreshment after the overload of CGI (probably made for peanuts and in poor conditions) in recent superhero films.
And finally, this is a perfectly cast film. Chris Pine and Michelle Rodriguez's performances are flawless and you can see very clearly that they had a lot of fun on set. Their younger companions, Justice Smith and Sophia Lillis are not that far behind either. And Regé-Jean Page is wonderful as an overly-serious valiant knight Yenk who helps the main team with one of their quests. But the clear GOAT is Hugh Grant as Forge Fitzwilliam. He approaches the role without any inhibitions, which results in a hilarious portrayal of a profit-obsessed con man. Only Daisy Head and Ian Hanmore are a bit underwhelming as the main antagonists but mainly due to the script. Their characters are rather bland and boring, though still menacing.
"Dungeons & Dragons: Honor Among Thieves" is proof that, with the right people, you can make a great film based on a world from an RPG system. Daley and Goldstein's work is certainly solid fun. And although it was made with familiar materials, the result is never boring. Hopefully, the directors will come back to the world of D&D once again.