This year has been a great one for Evanescence fans! During 2016-2017, after a long hiatus, they have finally made the tour (I've seen them live for the first time and it was amazing). After 6 years of silence, they have also released a new single Imperfection (with a video clip) and a new album, Synthesis, is coming! Let's go back a few months.
In March of 2017, we heard from Amy Lee that the new album is in the works: "We're working on something. […] It's not just a straightforward 'next Evanescence album'". She further stated: "It's something unique, something complex, something a little bit beyond that – and it's definitely new territory for all of us". And, subsequently, we now have the exact date for the new album, that is November 10th, 2017. Right now, Evanescence is on tour with their re-imagined stage performance style: each concert is with full orchestra, and they mix classical music with electronic and rock. A musical synthesis, just as the album name suggests!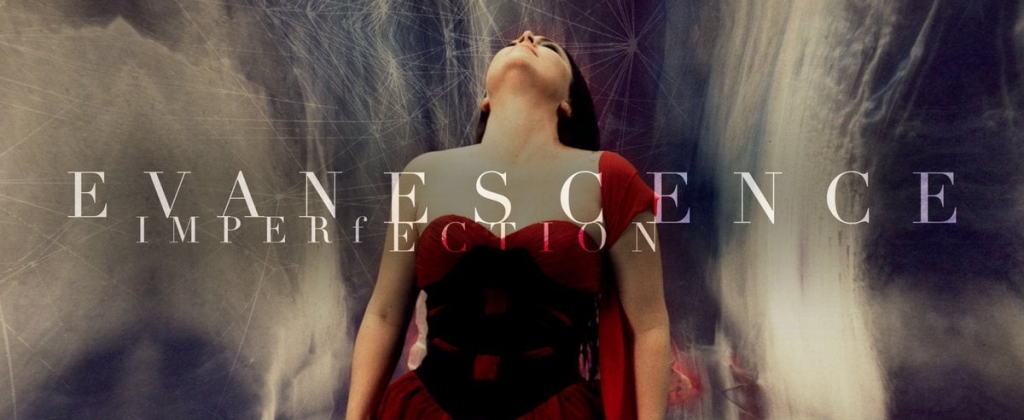 But first, let's talk about the first new single, Imperfection, off the album Synthesis. It seems like this song was inspired by the tragic death of Linkin Park's Chester Bennington on July 20th. He committed suicide. All the fans and people who knew him were in great shock. Amy Lee was deeply affected by this event and wrote a heart-touching post on Evanescence Facebook account:
After a short period of time since the FB post mentioned above, on September 15th, 2017, Evanescence released their new single Imperfection. The new song is one of the most emotional songs I've ever heard from this band. It is directed to people who suffer from depression, who feel left out, who might have lost something dear to them or who don't see any reason to live anymore. Evanescence gets deep into your heart with their powerful lyrics. You can feel the soul and emotion pouring through the lyrics of Imperfection. It acknowledges the possibility of how desperate and helpless we might feel. That we might have reached the bottom and can't get out of it:
The more you try to fight it
The more you try to hide it
The more infected, rejected, you feel alone inside it
You know you can't deny it
The world's a little more fucked up everyday
But, at the same time, it speaks to us, tries to tell us that we're worth saving; that with the help of other people, we can outrun all the hardships that the life puts us through.
I'm gonna save you from it
Together we'll outrun it
Just don't give into the fear
With this lyric line, Amy Lee also possibly hints at the death of Chester Bennington by stating:
So many things I would've told you If I knew that I was never gonna see you again
Amy Lee further tells within the song that she would do anything to save a person from their dark place.
I wanna lift you up into the light that you deserve
I wanna take your pain into myself so you won't hurt
Lee is telling to the people who struggle not to surrender to suicide or depression. She said in a Rolling Stone interview:
It's for all the people we've lost, all the people who we could lose, to suicide and depression. I'm singing from the perspective of the person left behind, the person in the waiting room. It's a plea to fight for your life, to stay. Don't give into the fear – I have to tell myself that every day. Nobody is perfect. We are all imperfect, and it's precisely those imperfections that make us who we are, and we have to embrace them because there's so much beauty in those differences. Life is worth fighting for. You are worth fighting for.
Don't you dare surrender
Don't leave me here without you
Cause I could never
Replace your perfect imperfection
The song further goes on telling:
The way you look us over
Your counterfeit composure
Pushing again and again and sinking lower and lower
The world is on our shoulders
Do you really know the weight of the words you say?

You want a little of it
You just can't let go of it
You've got an ego to feed
Too late to rise above it
Don't look now but the little girl's got a grenade
Interestingly, the second pre-chorus doesn't say: I want to lift you up, but: I'm gonna lift you up. A subtle but nice change, it basically implies that the lyrical ego will take care of us, won't leave us alone and will help us rise above it ("it" being the depression). I do believe that second line of the chorus, "I'm gonna take you down to the real world so you can watch it burn" suggests the fact that she will drag a depressed person into reality, and that they will both watch out how the person struggling with depression will see it being "burned" – saved from depression.
[Pre-Chorus 2] I'm gonna lift you up into the light you deserve
I'm gonna take you down to the real world so you can watch it burn [Chorus] Don't you dare surrender
Don't leave me here without you
Cause I would never
Replace your perfect imperfection
I also love the meaning of the lyrics right before the bridge, which simply says that all of our imperfections make us beautiful, that we are worth saving and that we are more than deserving to live.
I find the bridge lyrics appealing too! Everyone, who has depression, or, simply, was left behind because they lost someone or were rejected by society, can relate to it. Even though some of us might feel imperfect, different, weird etc. Those are the exact reasons that make us beautiful. And the lyrics invite us not to give up, but to live and celebrate life together with our perfect imperfections.
[Bridge] We stand undefined
Can't be drawn with a straight line
This will not be our ending
We are alive, we are alive [Chorus] Don't you dare surrender
Don't leave me here without you
Cause I could never
Replace your perfect imperfection
To further accompany this amazing, heart touching song, Evanescence, just a few days ago (on Oct 19th, 2017), have released a beautiful artistic video.
"This whole video is representative of suicide and suicidal thoughts. The band is "floating" in water, essentially drowning which is often what it feels like when depression sweeps over you. The Amy in white is sort of like the girl's conscience begging her not to give up and finally breaking through to her at the end and that's when you see the bandmates beginning to swim upwards because they're being released from depression's hold. Very beautiful and touching video." – a comment on Facebook that perfectly described the video.
So, what do you think of the new Evanescence song/video Imperfection? Are you waiting to hear their new artistic direction in the upcoming album Synthesis? We're eager to hear your thoughts in the comments below, or on our Facebook and Twitter!
Some extras!
Behind The Scenes
Inside Synthesis Series