UPDATE 14th of December, 2018:
We discovered some new news regarding the Sonic The Hedgehog movie and how Sonic look like. There's a rumor that this poster was used internally and is about one years old. Apparently someone leaked it for us to see. We're not sure if it's an original but it really looks like the real deal. We doubt that any fan would have actually the work that is this detailed, this fast (since the movie poster was premiered this week). What do you think of this one? We believe this looks a lot better than most of the people have expected.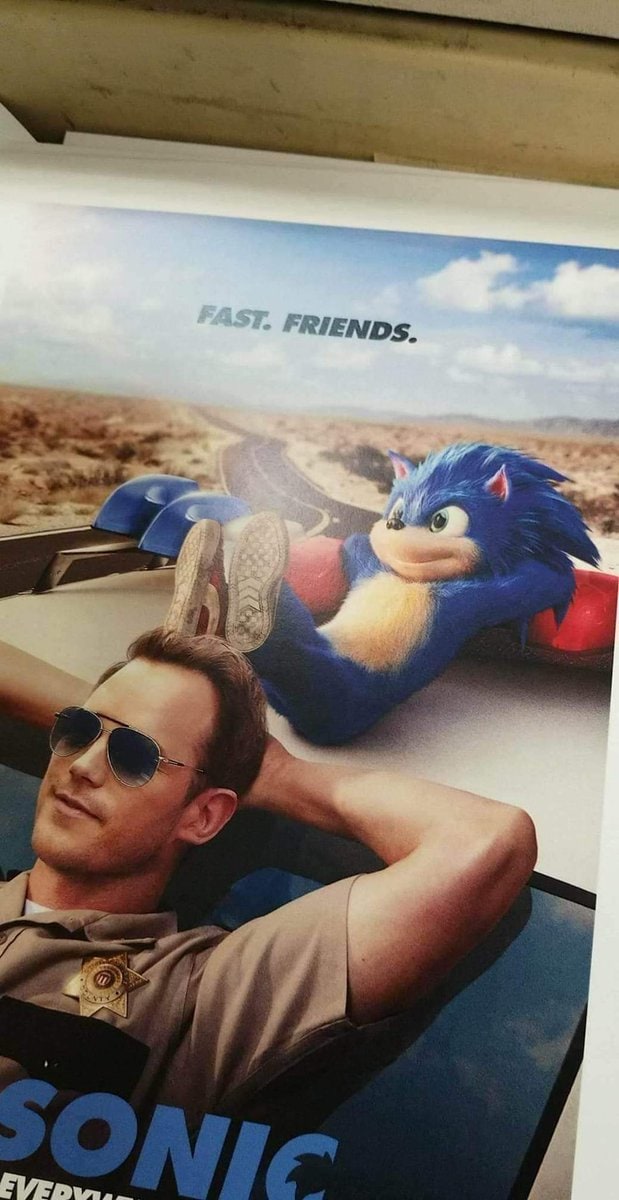 Also this:
More images and close ups of the now-confirmed and new #SonicMovie poster. (Picture: elecmon) #SonicNews pic.twitter.com/ejiTFQVZV0

— 🎄 Tails' Channel 🎄 (@TailsChannel) December 13, 2018
Today Sonic The Hedgehog movie news hit us by a storm – IGN has premiered the first motion poster for Sonic The Hedgehog movie. It has left the fans baffled; that's putting it lightly! It's going to be very difficult to see anything positive coming from this. A Sonic The Hedgehog film may not be impossible as we all saw how adorable Pikachu looked like as a 3D animation with the trailer to the upcoming Detective Pikachu film. It's always difficult to say where the problem lies because so many people work on it. Whether it is the producers, writers, director, etc. The poster they showed us is nearly a silhouette, and it feels like a lack of confidence.
Memes
Following the criticisms of the new look has also sparked memes. The fans and internet, in general, are relentless and in the span of few hours, a lot of hilarious memes are being created. Here's a few of them:
Hey, you guys gonna check out that new horror movie, Sonic the Hedgehog? pic.twitter.com/gJLEoFWu8o

— Son of a Glitchmas (@AStartShow) December 10, 2018
Seriously, look at Detective Pikachu. Both are live action, yet the difference is night and day. I see Detective Pikachu and I think, yeah it may look a bit weird but I still see and recognise Pikachu. Sonic however you have to convince me that thing looks like Sonic. #SonicMovie pic.twitter.com/KGcjI5LGky

— jollychao15 (@maximumairride) December 10, 2018
So uh, the new sonic movie looks good. #sonicthehedgehog #SonicMovie pic.twitter.com/MB0yZgL6ND

— ⛄️F-Sonic❄ (@fsonic3) December 10, 2018
The Japanese poster for the #SonicMovie has been leaked and it reveals more! pic.twitter.com/6yxLHIYfD9

— Lucky Hit (@LuckyHitSeries) December 10, 2018
Exclusive first look at the live-action #SonicMovie pic.twitter.com/rryjlpypkC

— James Lloyd (@thejamesdlloyd) December 10, 2018
Closing thoughts
While the motion movie poster left most of the fans disappointed, we shouldn't give up our hopes yet. Yes, the movie poster doesn't look too promising but let's keep in mind that we saw basically a silhouette. We still need to see the trailer, which will reveal how the 3D CGI model for the upcoming live-action movie will really look like. We won't be able to give a complete judgment until we get a trailer and see more. Right now this situation reminds me of Sonic Boom reveal where we also saw silhouettes. In the end, it turned out to be not so bad (despite the Knuckles who skipped the leg day). We all know, that sometimes fans can be beyond cruel on the internet. But it's all because we all love this character so much, and don't want for it to look bad.
What do you think of Sonic's redesign for the film? Make a good use of the comment section below or go to our Facebook or Twitter!