Who says that superhero films don't snag awards?!
As savvy moviegoers already know, "Hidden Figures" depicts the true story of three fearless, female African-American mathematicians at the forefront of the 1960s space race between the USA and Russia. Commercially and critically, the film is every bit as gripping as the clutch of Darth Vader. The proof? The multi-Oscar-nominated "Hidden Figures" unseated "Rogue One" atop the domestic (US) box office just a few weeks ago.
On January 23, Geekified readers learned that more on the 'authentically geeky' movie topic of "Hidden Figures" would be forthcoming. At long(ish) last, Geekified raises this subject to new heights thus: "Hidden Figures" is the ultimate superhero film experience of 2016… and quite possibly… ever!
With the help of Theodore Melfi, "Hidden Figures" director and co-writer, Geekified attempts to deconstruct the above assertion. In descending-down-to-earth order, here are the top five reasons that "Hidden Figures" is the sum of all costumed-savior stories:
5. Costumes
There is no contest between the attire of Tom Hiddleston's Loki ("Avengers"), Ian McKellen's Magneto ("X-Men"), several actors' The Hulk (tons of titles) and that of the "Hidden Figures" protagonists. "Hidden Figures" is the obvious champ. The smart, early '60s outfits (Renee Ehrlich Kalfus, masterful costume designer) are envy-inducing, especially in the opinion of retro chic audience members. However, the attention to apparel detail represents more than period style. In fact, Taraji P. Henson's lines as Katherine Johnson underscore the significance: "So yes, they let women do some things at NASA, Mr. Johnson. And it's not because we wear skirts. It's because we wear glasses. Have a good day."
4. Theme
"The foundation of this movie is actual rocket science! The main characters are actual, gifted women!" enthuses director/writer Melfi. He continues: "The awards [26 wins and 59 nominations at last count, including 3 Oscar nods] are nice, but they don't mean as much as other things, like our screening for 10,000 LAUSD (public school) kids at USC. Turning kids toward science: That is awe-inspiring."
3. Director
Melfi is something of a rogue hero himself: By his own admission, he removed himself from "Spider-Man" feature directorial consideration in favor of "Hidden Figures". Two days before the "Spider-Man" directorial decision was to surface, Melfi's agents presented Margot Lee Shetterly's premise to him. Shetterly's non-fiction book was yet to be published; Melfi already was one of two choices for helmer of an unequivocal tentpole movie, namely "Spider-Man." After hearing a brief "Hidden Figures" phone pitch, Melfi's mind was made up. "Aw, shit! Send me the book proposal!" was his official response. With that, he launched himself into the universe of "Hidden Figures" without a safety net.
2. Conflict
Just like 2016's "Batman vs. Superman," "Hidden Figures" contains large scale conflict. There are two major thematic clashes in the forms of racial and gender discord. Compounding those issues is the super power space program rivalry between the USA and the Soviet Union. And if one tallies all of the person-to-person contention, such as that between Dorothy Vaughan (Octavia Spencer) and Vivian Mitchell (Kirsten Dunst), one might be tallying for a very long while. That's a lot of "Hidden Figures" conflict, and it is all real!
Yet, something compels Melfi to add one more challenge to the mix, and it points toward the global geek community:  "'Hidden Figures' beat 'Rogue One;' we're sad, because we love 'Rogue One!' But this could be your [geek] calling to think outside the box office and consider cheering a new kind of hero!"
1. Inspiration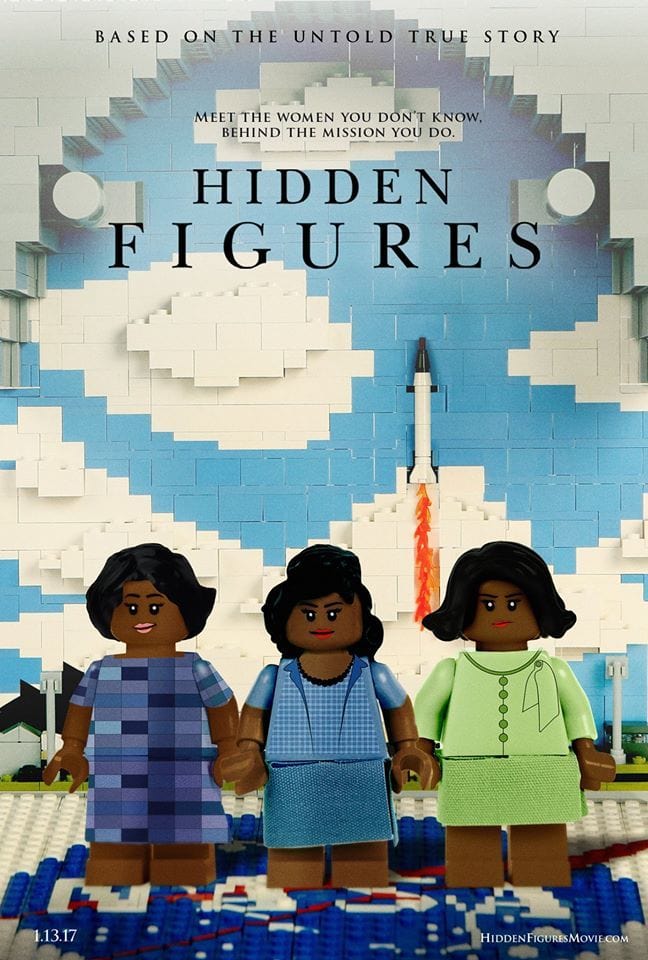 There is no doubt that "Hidden Figures" is a spigot for inspiration. Here are three related facts:
Inspiring kids to consider scientific careers is impressive. This movie does just that.
Inspiring LEGO fans to create "Hidden Figures" tableau is doubly so, especially considering that an official, licensed product does not yet exist. The evidence is in the fan art.
Inspiring LEGO itself to manufacture, advertise, and sell "Hidden Figures" play sets is monumental and is almost a reality.
See recent press coverage about the massive online campaign for a LEGO "Women of NASA" brick series. See also the accompanying photos.
Finally, on Sunday, February 27, watch "Hidden Figures" fly high – without the aid of aerodynamic spandex –  during the 89th Academy Awards telecast, live from the Dolby Theatre in Los Angeles, and prepare to be blown away (sans explosives).
As usual, we're interested in your opinion, so make sure to use our comment section below or interact with us on our Facebook or Twitter!